Tattoo Aftercare and Healing Process
Before getting a tattoo:
Before getting any tattoo or treatment on your skin it is important to keep in mind the following tips:
– Mind your personal hygiene. Getting a shower before any session is highly advised.
– Get sufficient sleep, come to the Studio well rested.
– Do not consume alcohol nor drugs, at least 24 hours before getting the tattoo and the following 24 hours after getting it.
– Eat something before your session. It is not recommended to get tattooed fasted.
– Do not put on your skin or consume any kind of anesthesic.
– It is necessary that your skin is intact. Sunburn, redness or irritation will not be accepted.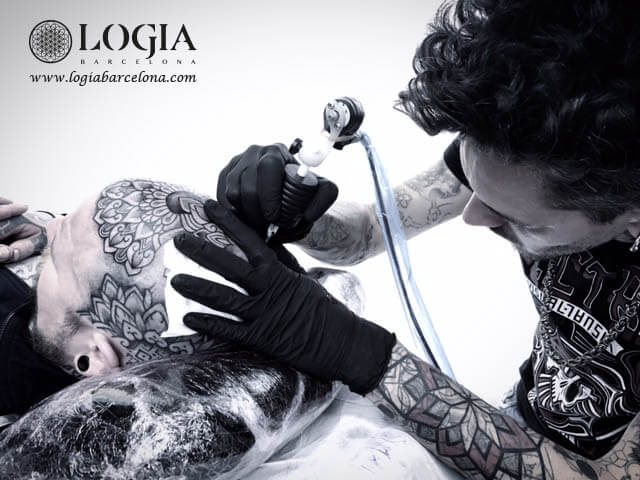 Tattoo aftercare and healing:
The greater the care you take of your skin, and therefore of the tattoo ink, the better the final result will be. It is crucial to perform basic care so that the tattoo heals properly:
– Always wash your hands before touching your tattoo.
– Wait a couple of hours after covering the tattoo with plastic wrap to remove it. You can wait until you get home.
– When going to bed, wrap your new tattoo with plastic only for the first three nights after the tattoo is done. It shouldn't be bleeding after that.
Steps to wash your tattoo:
Wash the tattoo with your hands, with lukewarm water and neutral soap. Do not use a sponge.
Dry carefully with paper towels and light touches. Do not drag.
Once clean and dry apply a small amount of the healing aftercare cream suggested by your tattoo artist, extending it with a good massage, until the tattoo is hydrated and shiny. It shouldn't be too thick of a layer, almost everything should be absorbed by the skin.
– Repeat the wash-dry-cream process three times a day for one and a half weeks.
– After this one and a half weeks, keep hydrating the tattoo with regular moisturizer once a day. You can also use aloe for tattoo aftercare.
– If any scab appears, do not rip it off. It will fall off on its own during the healing process.
– During the first month do not sunbathe or get tanning treatments (UVA rays), nor bathe in the beach, swimming pools, jacuzzi or lakes. After that first month, apply total protection sunscreen on the tattoo area when going into the sun.