Your ideal style by Logia Barcelona
Logia Barcelona Tattoos
Logia Tattoo Barcelona is originated from a clear idea, the passion about art and beauty. We want to add innovation and fresh air to the aesthetics world.
We are professional tattooists and specialists in micropigmentation, piercings and tattoo elimination, always with maximum guarantee and comfort.
We also make special tattoos for women, men or couples. You will be surprised by our large all types tattoos' catalogue. Our experience tattooing in Barcelona give us the opportunity of tattooing exclusive designs and achieving unique results.

Outstanding services and treatments
Show the extraordinary by Logia Barcelona
Your ideal style by Logia Barcelona

JAVIER JAS
He had his introduction to the world of artistic tattoo through graffiti, arousing interest in disciplines such as illustration, design and airbrushing. His first contact in 1998 opened the way for him now, focusing his style on techniques of realism in black and gray, black work and new school.

TEVAIRAI
Born and raised in Tahiti, Tevairai is a tattoo artist specializing in the traditional tattoo of Polynesia (Maori, Marquesan, Samoan, etc.). His passion for tattooing was born as a way of sharing and transmitting his culture to other people. As each person has his / her history, Tevairai can represent the history of each one through the symbols of Polynesian culture.

ZOEN
Graffiti lover since 1990, began his career in the world of tattooing twenty years ago. He likes to navigate different styles without typecasting in any, although he has a marked tendency to realism in black and gray that makes him stand out among the best in Barcelona.

MOSKID
/trabajos-moskid/
Born in 1991 in Barcelona and artist by nature. He started in the art of tattooing 4 years ago with Lettering. Currently he dominates several styles. Blackwork, Dotwork and Custom Letterings. Attentive, perfectionist, and always eager to learn and surpass himself.

LELECTRIC
Born in Bergamo, Italy, at age seventeen he studied at the art school where he became interested in the art of tattooing and at twenty-one he moved to Kazasjstan, where he spent his time among other artistic forms. His beginnings as an apprentice took him along the path of traditional American tattooing, his travels and his passion for Japan made his personal style lead to very clear tattoos. An extraordinary blend of traditional Japanese and American style that does not leave anyone indifferent.

PEPO ERRANDO
After an artistic high school graduation this thirty year old Barcelonés artist was one of the most outstanding students of one of the best comic schools in the city. In his work, new school and watercolor highlight his colorful colors and full of life.

BEVE
/logiabarcelona.com/en/beve/
After studying illustration, he decided to express his illustrations over the skin. His Jobs are inpired in New School and Neotraditional.

JUANMA ZOOMBIE
He has been working more than 20 years in the tattoo world. A real professional in New School style. His designs, inspired in cartoons, have the brightest colours. Also, his tattoos in black and grey are a good match.

LAIA DESOLE
A Catalan tattoo artist who began her professional career in Brazil. He has specialized in elaborating traditional tattoos with a very personal style, also stands out with Hindu and menhdi motifs, and a great passion to draw flash.

VÍCTOR DALMAU
Multi-faceted tattoo artist covering different styles, from Old School, through Mandala to Blackwork. It is characterized by the sharpness and freshness of its tattoos.
In Logia Barcelona we have some of the finest tattoo artists from around the world who come to the study as guest tattooists every once in a while to leave their unique mark in our clients' skins. Come to Logia Barcelona and be one of the fortunate ones who can show off amazing tattoos made with original styles and techniques by first class tattoo artists, who will tattoo your skin with exclusive and surprising designs.

LEO VALVERDE
/trabajos-leo-valverde/
Su constante dedicación, la experiencia y el profesionalismo para diseñar e interpretar una idea son únicos. Trae a la piel su particular estilo de dibujos animados, con su propia identidad y una técnica sin pulir. A Leo le gusta que sus proyectos tengan una historia que contar, personalizando una idea que la haga especial para siempre.

PÍA VEGAS
/trabajos-pia-vegas/
Pía Vegas, tatuadora mundialmente reconocida, comenzó en el mundo del tatuaje en el año 2012. En la actualidad es especialista en fotorealismo a color y en blanco y negro, un estilo difícil de realizar y con la que ha sido premiada a nivel internacional. A esta artista también destaca en los estilos new school y cómic.

MARCI BLAZSEK
/marci-blazsek/
"Marci lived in Slovakia until he was 32 years old. He lived a peaceful life working as a jeweler, but his true passion lied elsewhere. He used to draw a lot, and he was so good at it even his friends requested him to make them some designs so they could get them tattooed over their bodies. It was only a matter of time for him to become a tattoo artist, and he's been a professional one for 7 years now. His speciality, color realism."

ÁNGEL DE MAYO
/logiabarcelona.com/en/angel-de-mayo/
"In 2008 this artist from Madrid decides to put his work life to an end, and then his life took a sudden turn as he got fully invested in the world of tattoos. In 2011 he decided to continue working as a tattoo artist on his own, and after 1 year some, Ángel de Mayo started to make a name for himself as one of the biggest tattoo artists from Madrid, collecting many awards at tattoo conventions. His goal is to keep enjoying the life of a tattoo artist and one day get to be internationally recognized for his realistic work"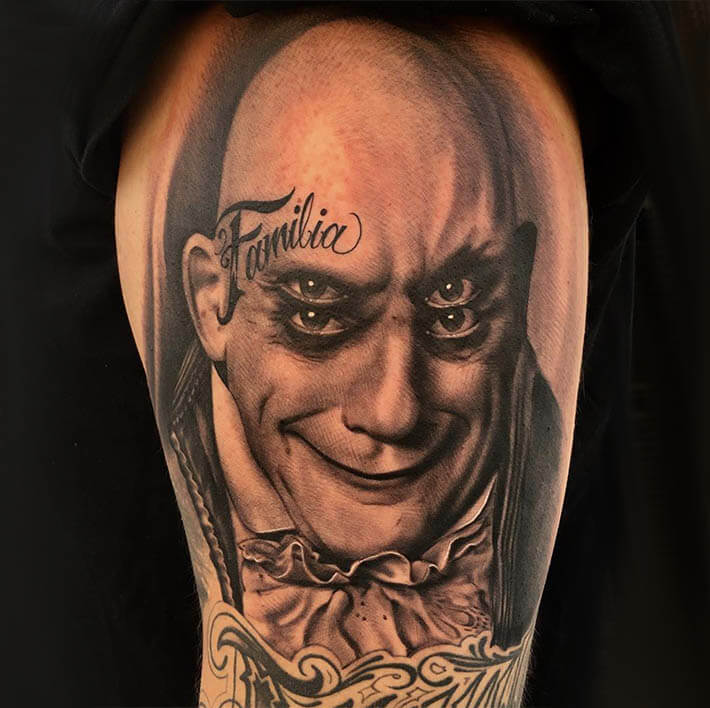 GREGO
After studying illustration, he decided to express his illustrations over the skin. His Jobs are inpired in New School and Neotraditional.

MIGUEL WOM
/miguel-wom/
Local de Vigo y tatuador free lance. Sus tatuajes de estilo puntillista y geométricos destacan en toda su obra y sus preferencia por el watercolor, black & grey, sketh y realismo hacen de este tatuador tan versátil norteño un gran profesional en el mundo del tatuaje.