Forearms are an area of ​​the body where getting a tattoo is very eye-catching. It is a body zone with enough visibility when dressed with short sleeve shirts. This should be taken into account when considering a forearm tattoo.
Forearm tattoos for men
Men's forearms are usually wider than women's, plus they present a stronger appearance. Forearm tattoos for men striking and beautiful. Also, this area has little hair, so the tattoo is more visible in all its glory.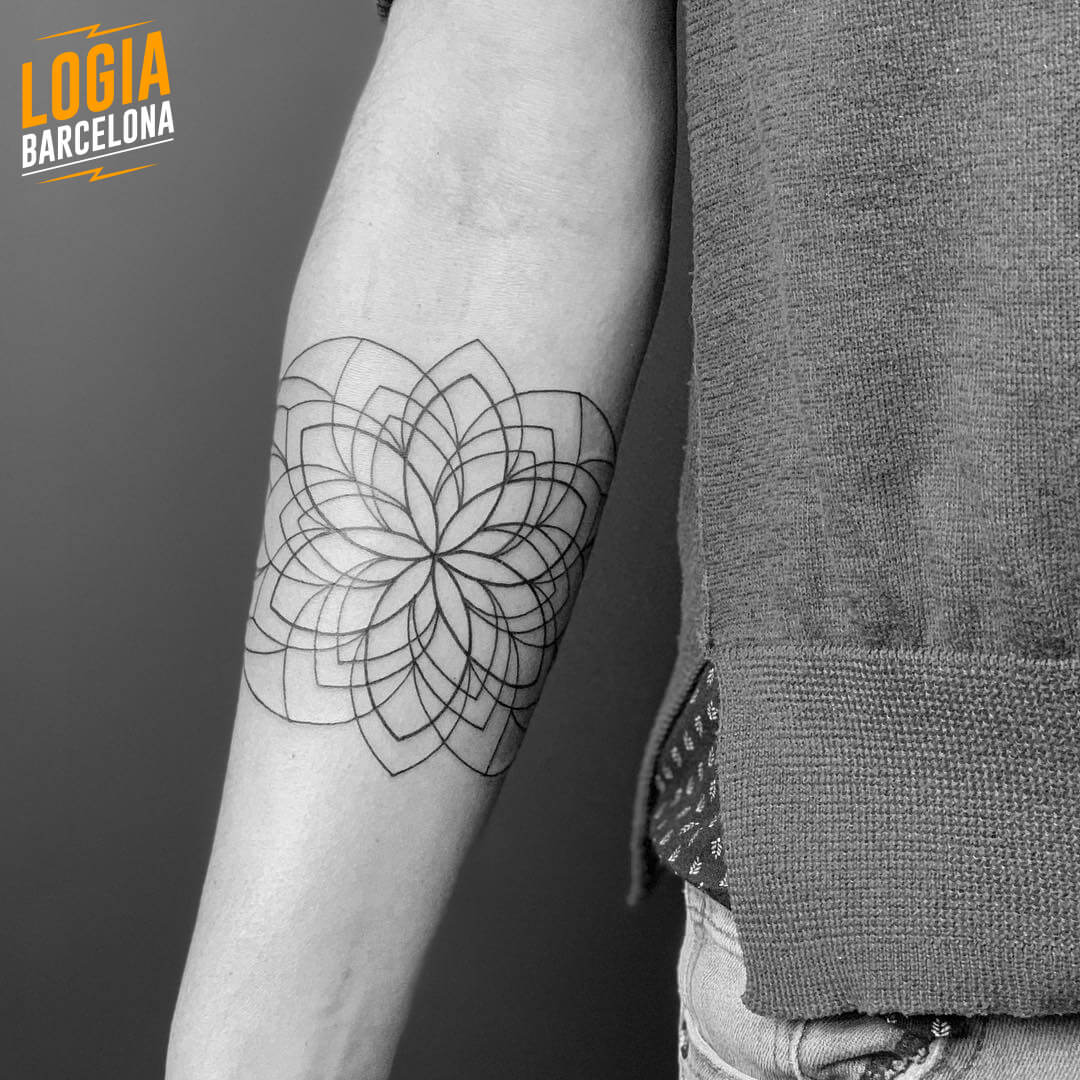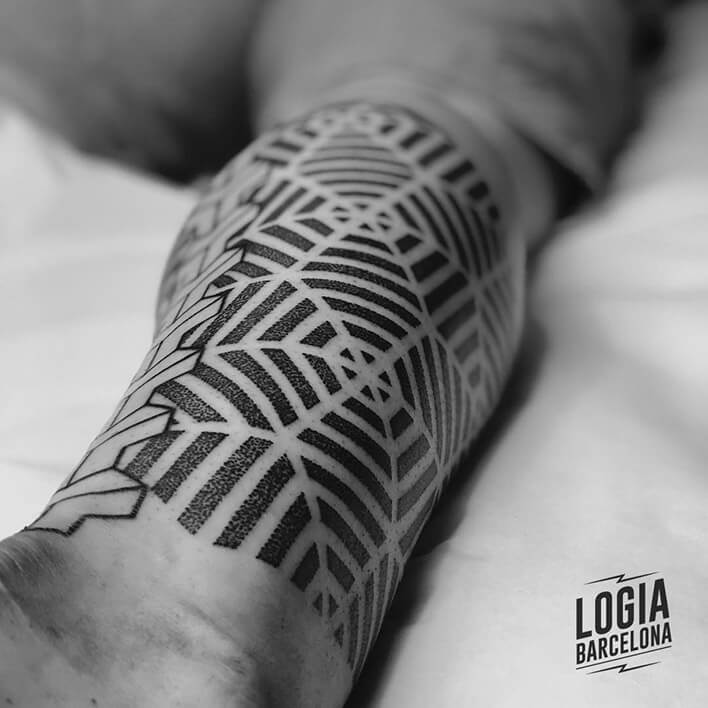 Forearm tattoos in black & White
Black and white tattoo or color tattoo? The decision is yours, no one else's. Some tattoo designs are conceived to be only in one of the two modalities. For example, the next ideas present two geometric tattoos, specially designed to be tattooed only with black ink and a steady hand. On the other hand, other designs can only be done in colored ink. Other pieces can me tattooed either in blackwork or in color, according to your taste and personality.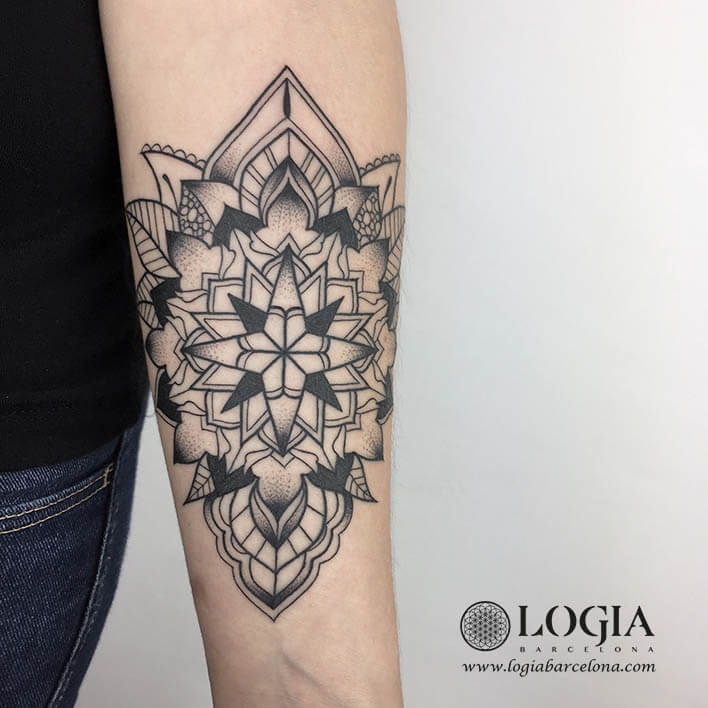 This mandala forearm tattoo was designed to be a blackwork tattoo. That's why it works with dotwork shadows.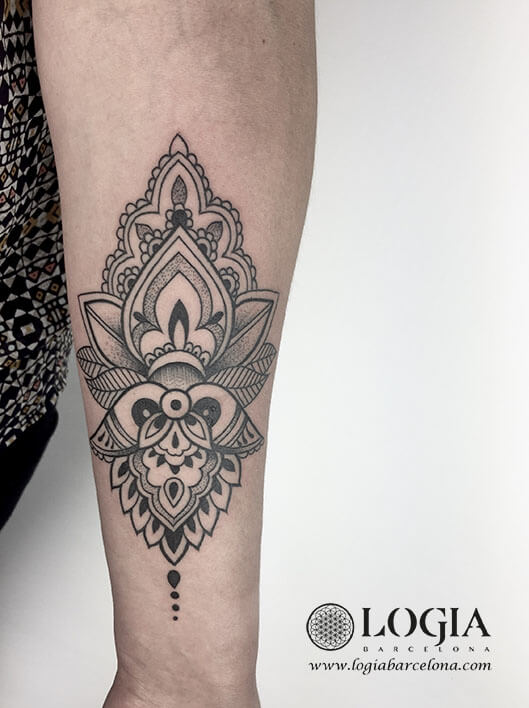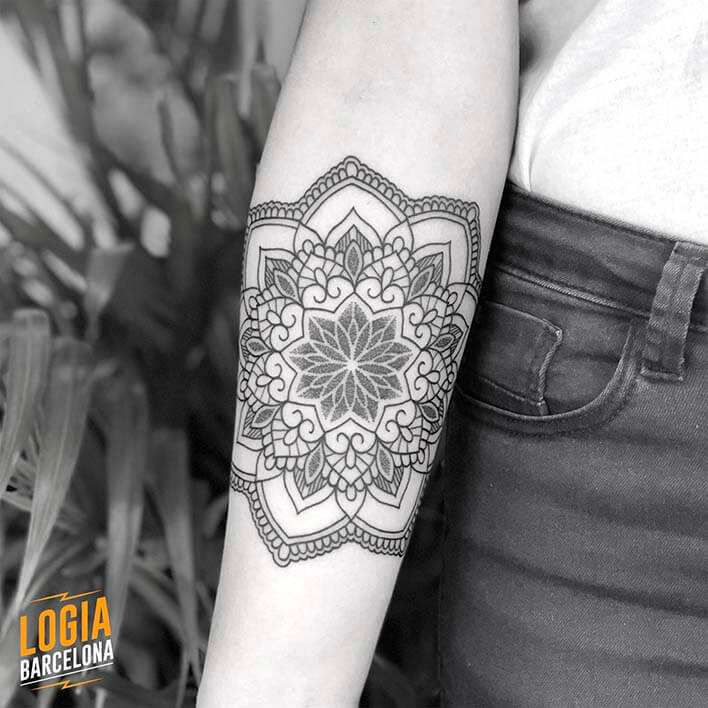 On the other hand, the next tattoos could also be done in full color: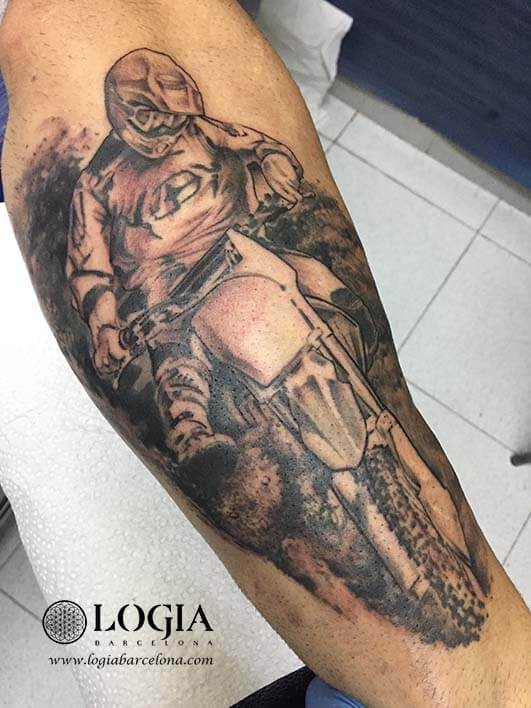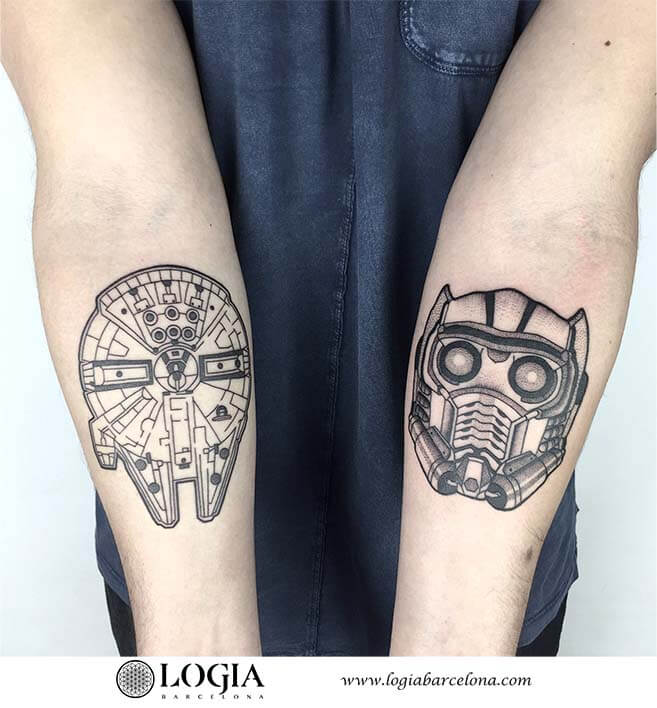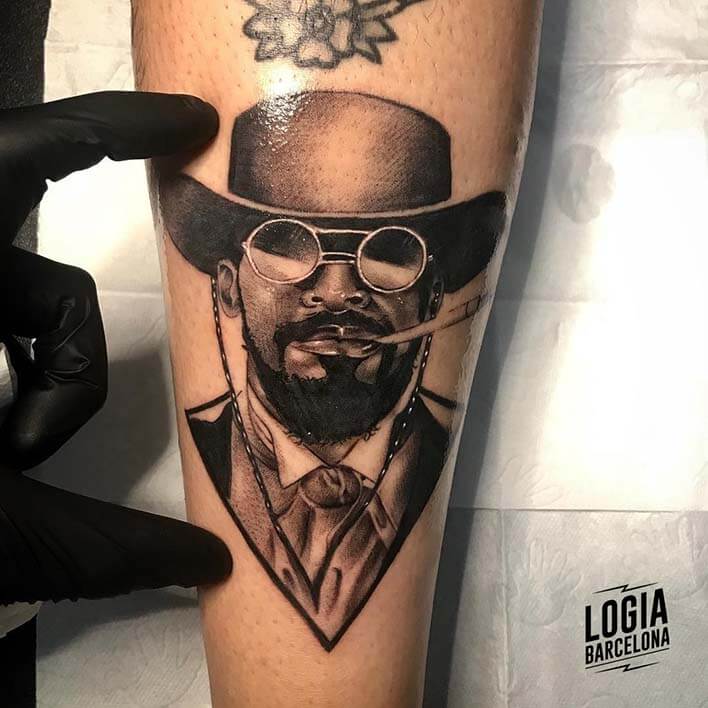 In this Django tattoo in the forearm, the technique used is called Blackwork, used to achieve a classic look.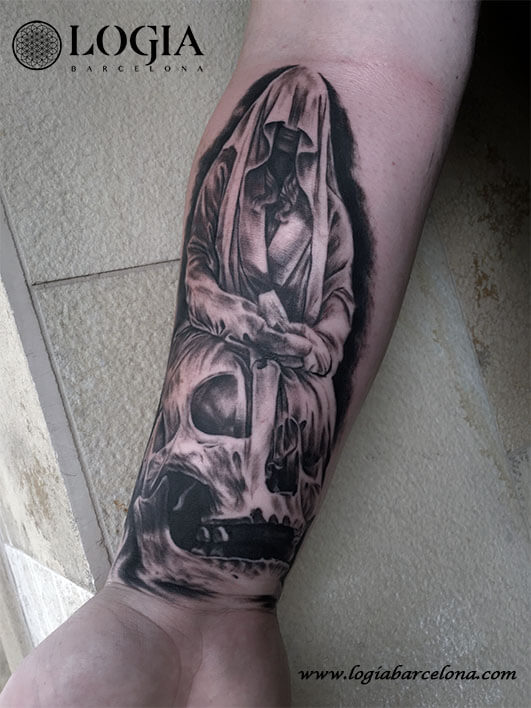 Using dotwork and shadowing, the tattoo artist achieves the desired depth without usind any colors: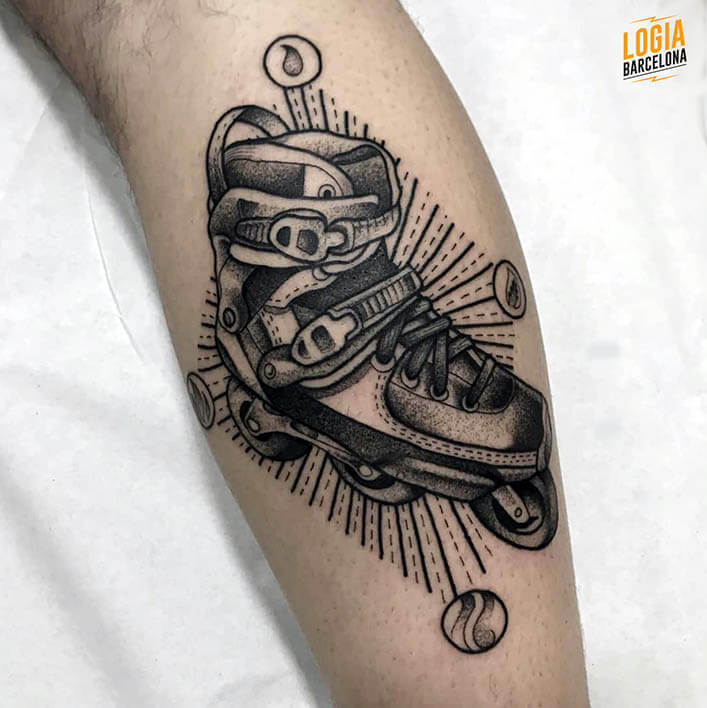 Color forearm tattoos
If you want a color tattoo, your forearm is a perfect place to show it off! As we have already mentioned, the forearm is a smooth skin area, with little hair and a lot of visibility when wearing short or no sleeves. Being an "interior" area, it is not as affected by the sun, so the color of the tattoo is more resistant to the passage of time than in other areas of the body.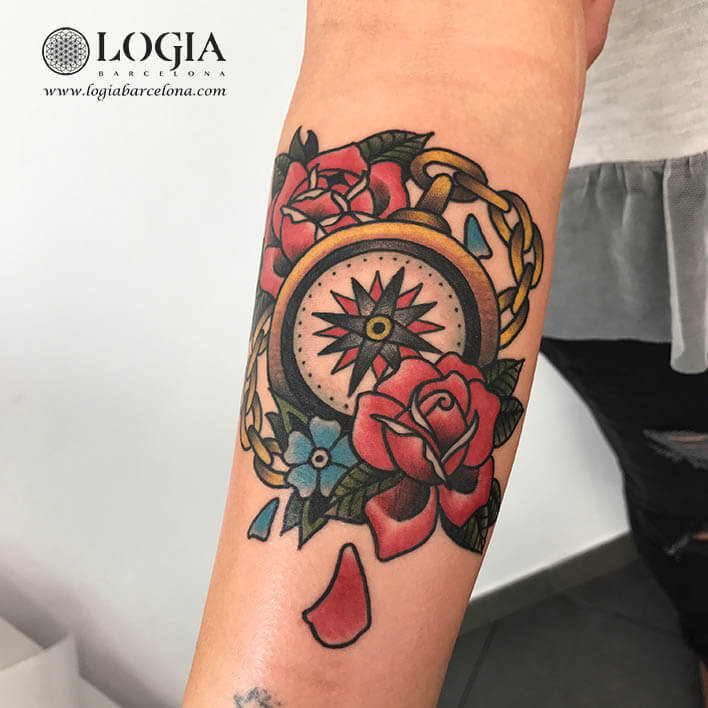 In this old school compass tattoo the artist used defined and neat colors, obtaining a really clean and simple forearm tattoo.
This next example of another old school tattoo is a treat for traditional perfume bottles:
The Old-new school tattoos depart from the essence of old school style, although the stroke is not so balanced and the shading and colors tend to mix: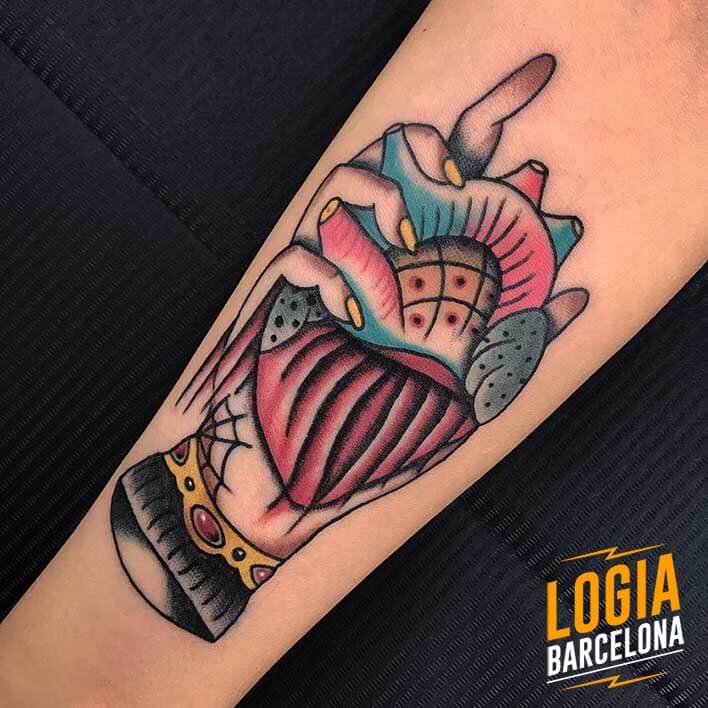 Mandala tattoos combine designs in black and white and in color, as the next lotus flower tattoo prove: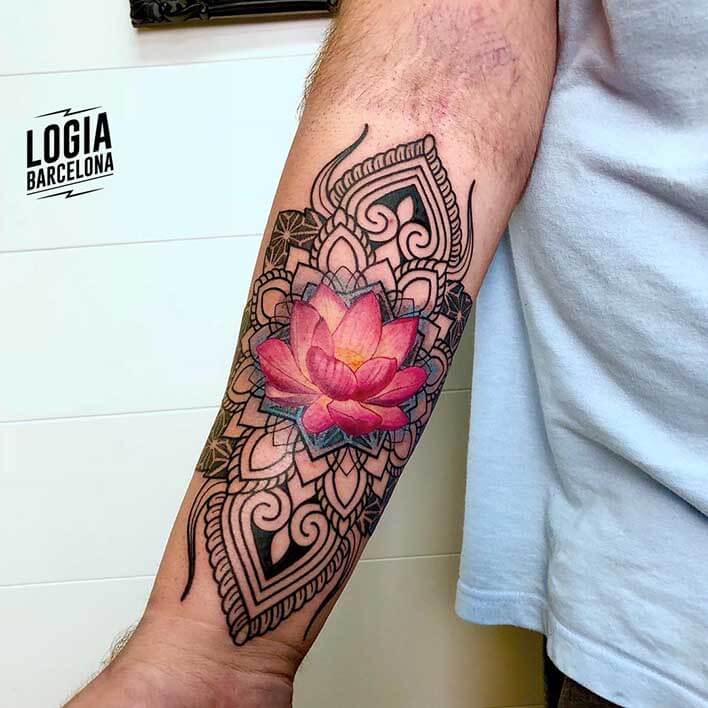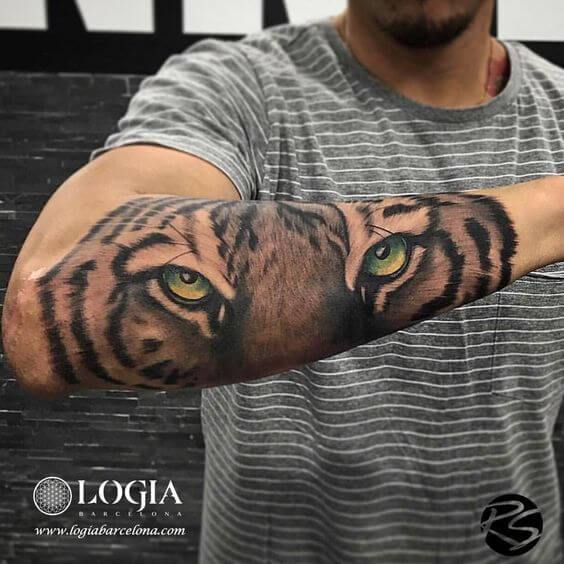 Another use of colors include realistic tattoos. A tiger tattoo shows all its fierceness in the forearm, with blended colors to achieve the greatest effect.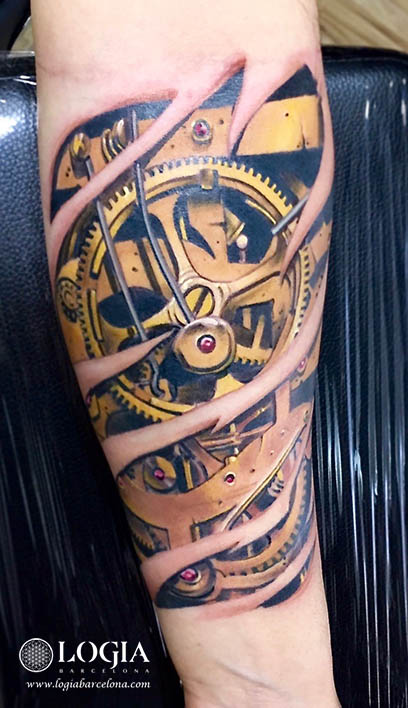 Biomechanical and Gear tattoos are also a popular motif to get in realistic style. Color is fundamental to bring realism to the piece, as well as getting that 3D Tattoo effect.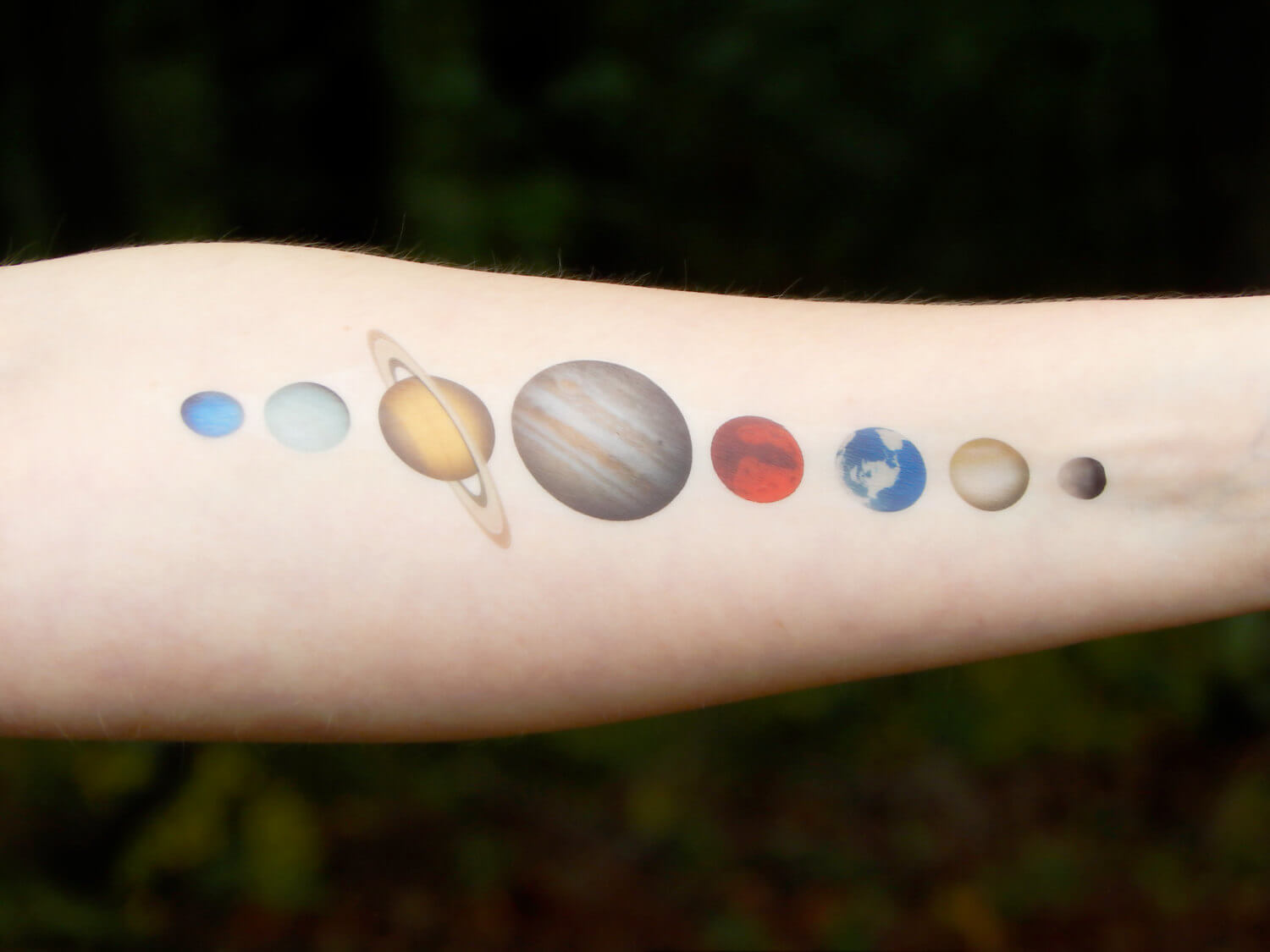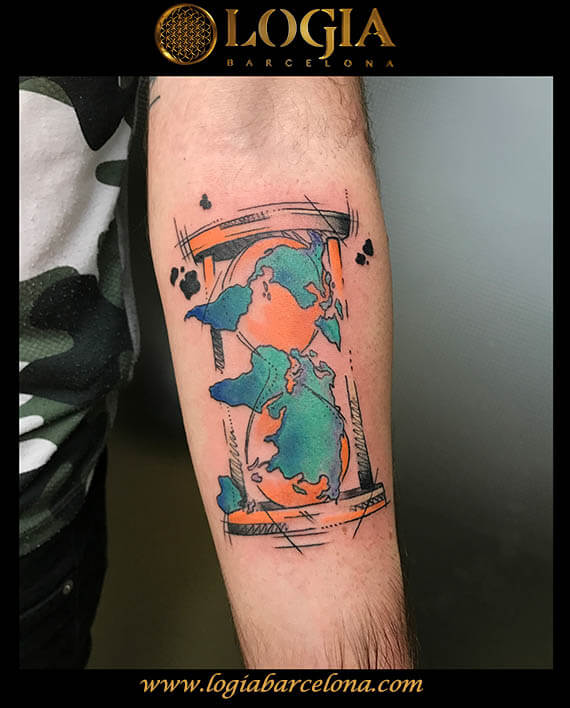 This two planet tattoos use color to give a sense of freshness to the design.
Another old school design of a Jester tattoo in full color: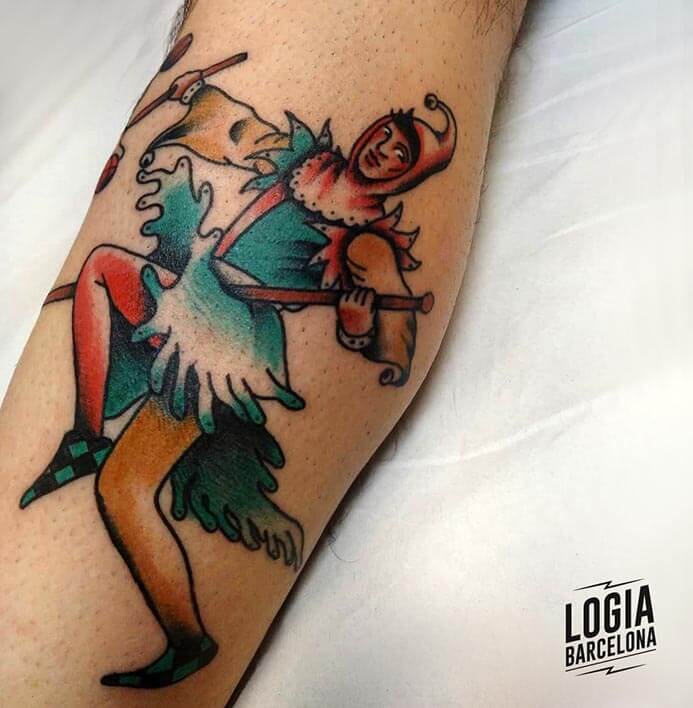 Tattoos can have minimal color as well, for example this astronaut tattoo with thick lines and anecdotal strokes of color: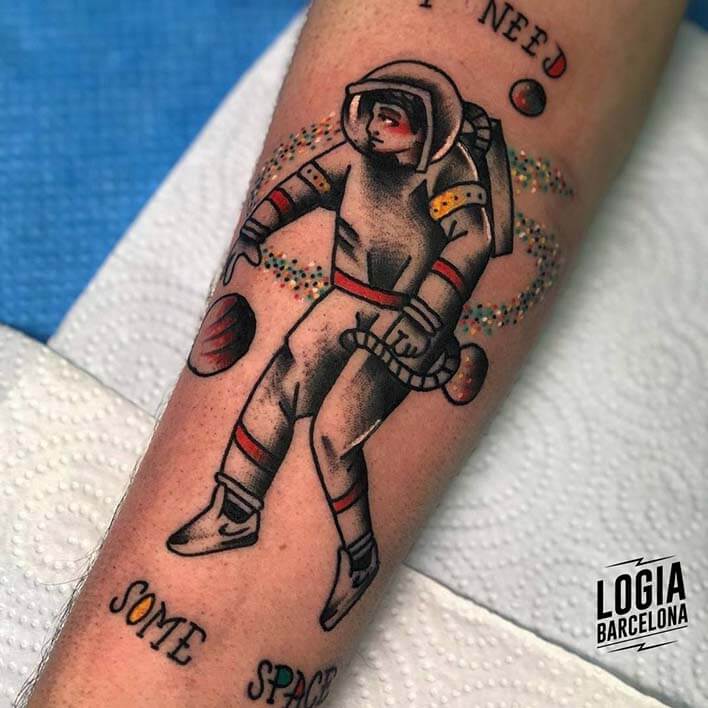 Minimalist color tattoos on the forearm
Next we'll show some more tattoos with a minimalist design, without clear line strokes and with color as the main character. Simple silhouettes that carry all that meaning, like this Heisenberg tattoo: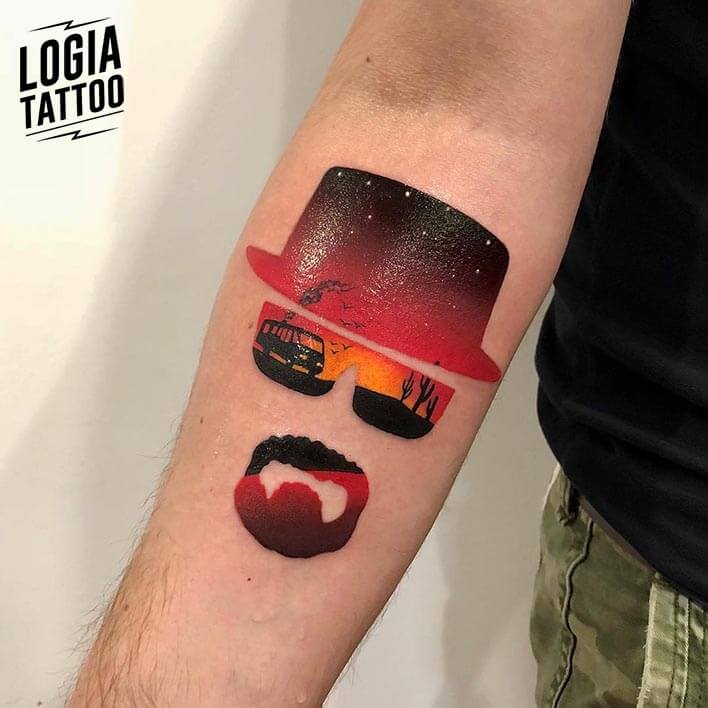 The next piece is also made by tattoist Daria Stahp. This diamond tattoo is beautiful without needing an outline.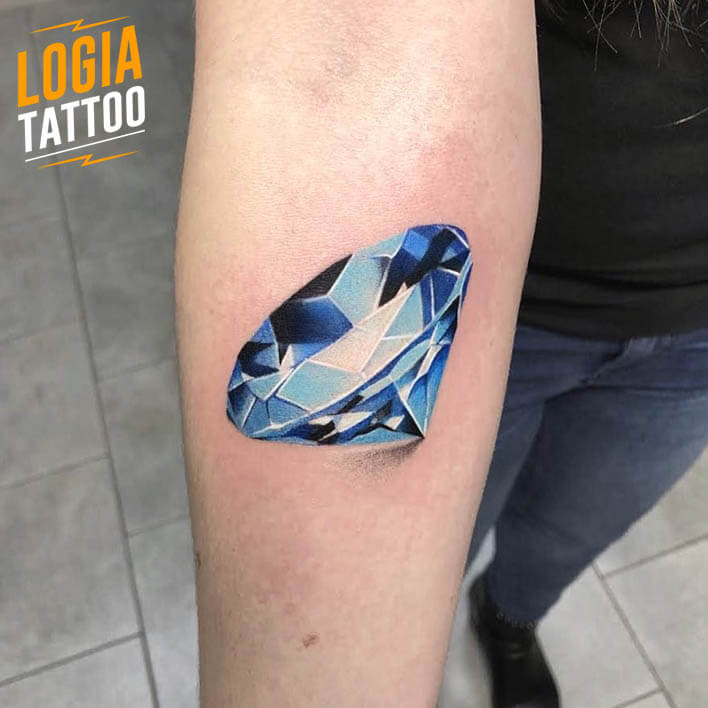 Watercolor tattoos on the forearm
Forearm Tattoo Style result in beautiful, delicate and really different tattoos. If you've ever tried to paint with watercolor paints, you know it is not easy. So let's admire the next compilation of really original and stylish tattoos: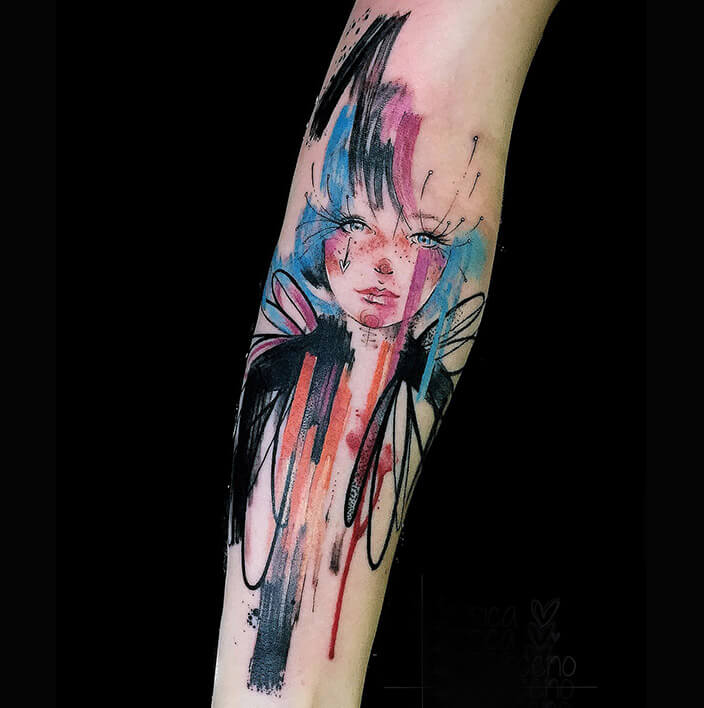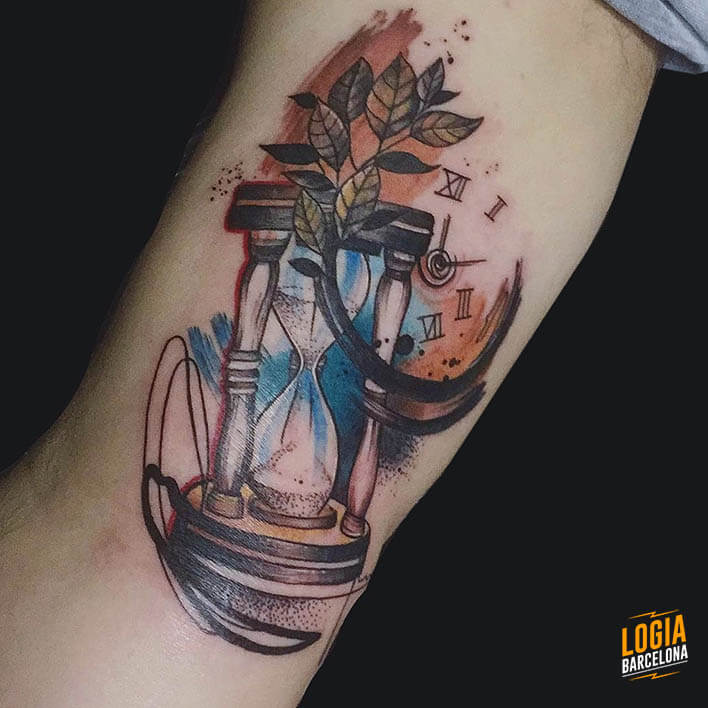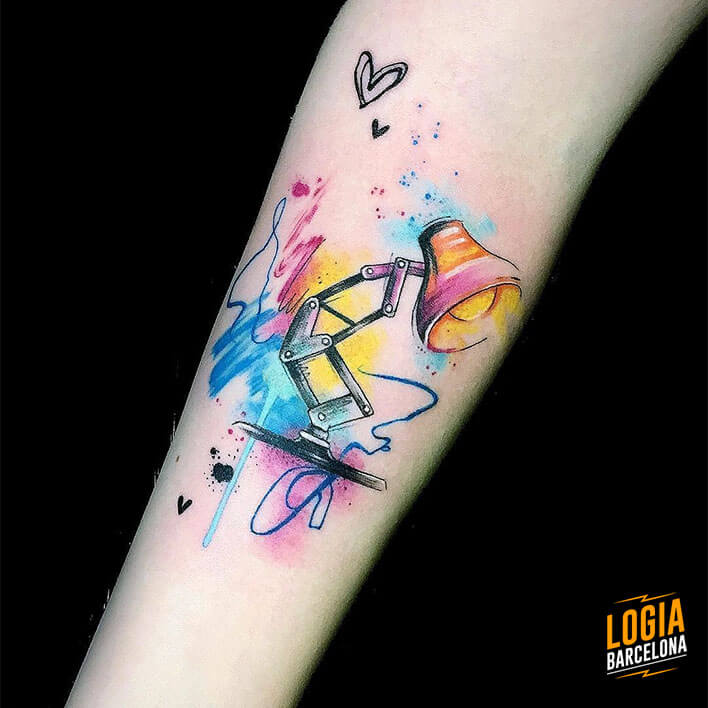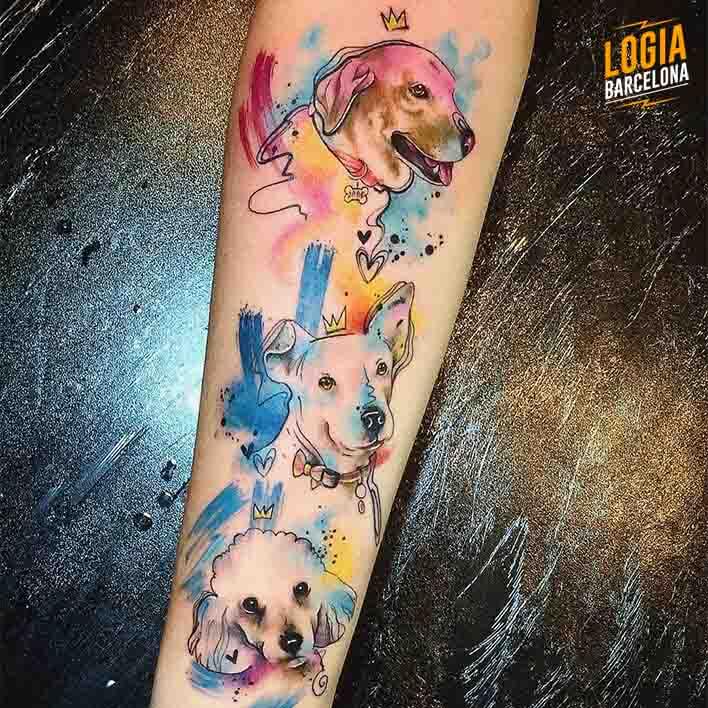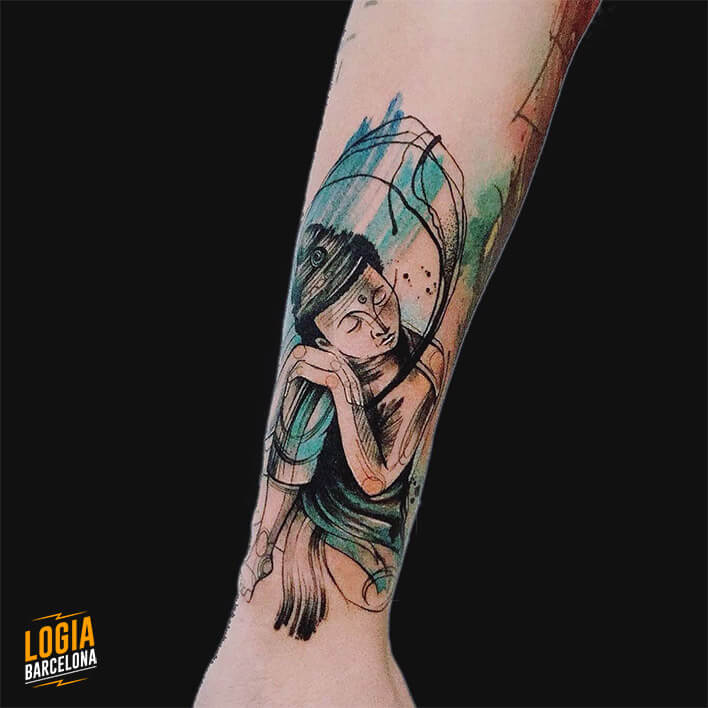 Lettering tattoo on the forearm
Lettering tattoos are quite common as forearm tattoos. This a pretty flat area where letters and sentences have a lot of visibility and are easy to read – except if the lettering is actually made to be difficult to get.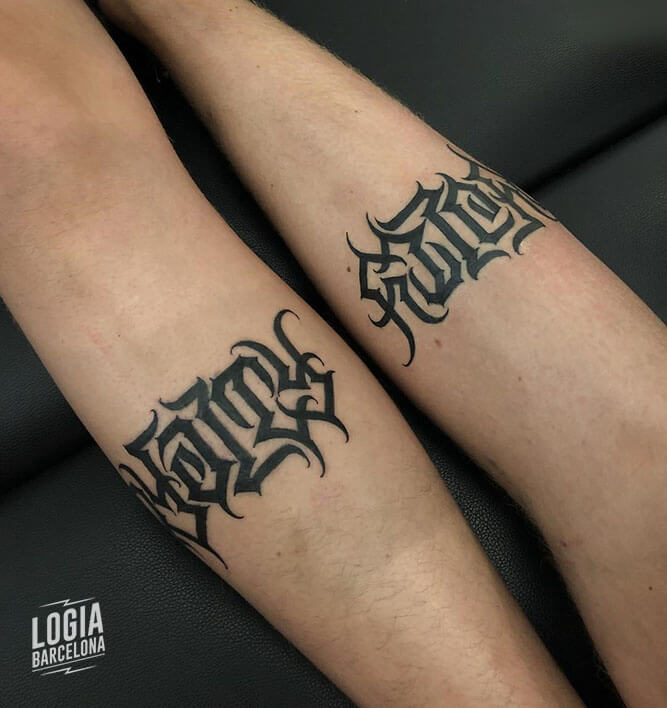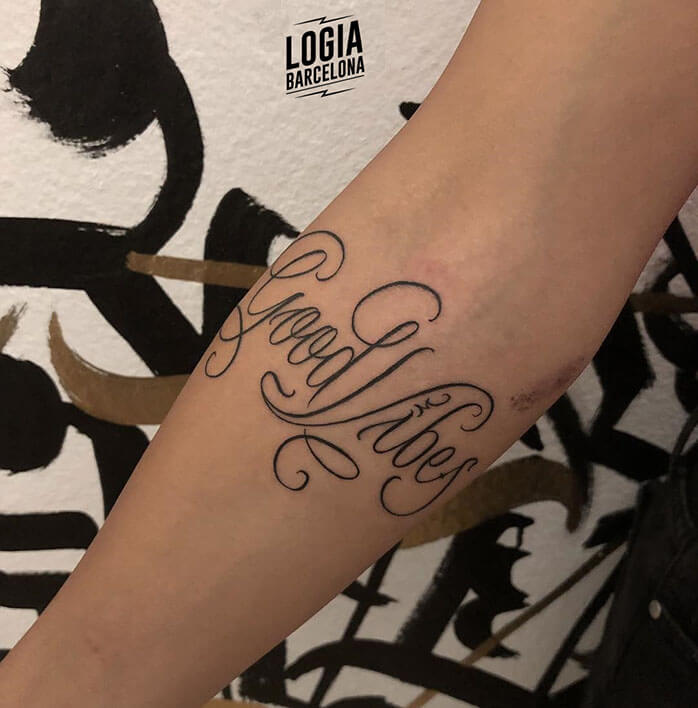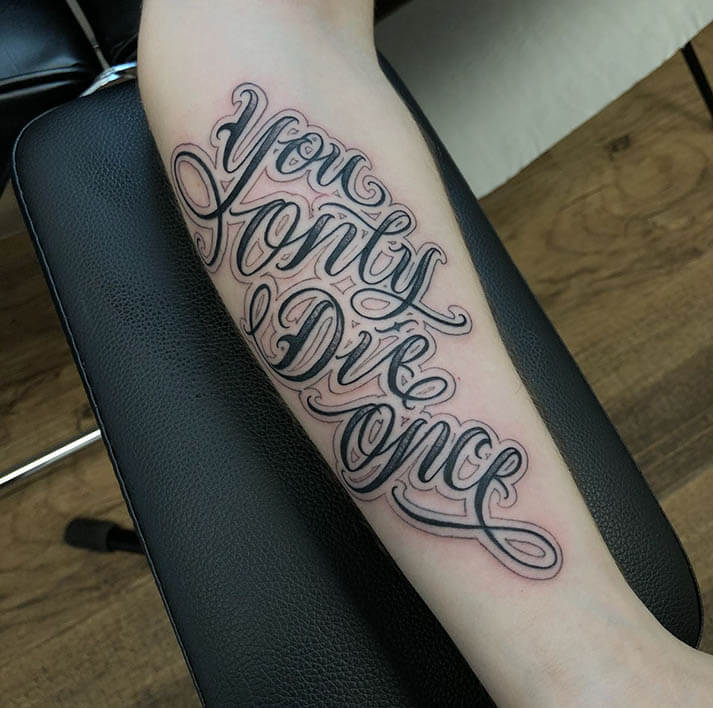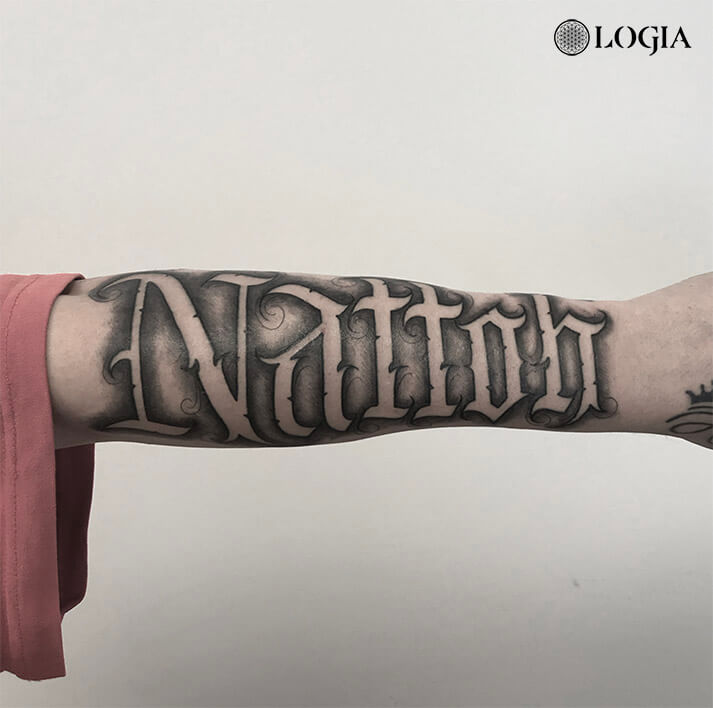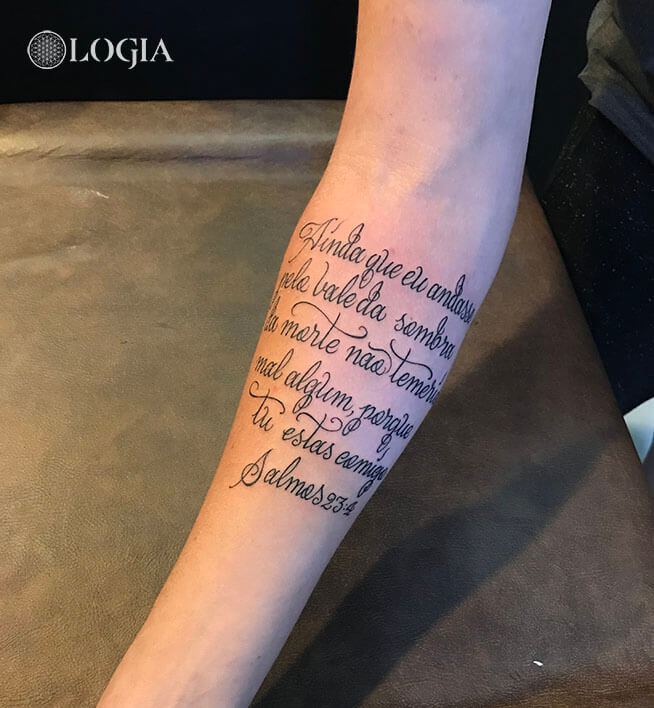 Matching forerarm tattoos
Quite a lot of coulpes decide to get matching tattoos or complementary tattoos to prove their love. Some of the most popular are the ones where one member of the couple finishes the other person's design, as this moon and wolf piece: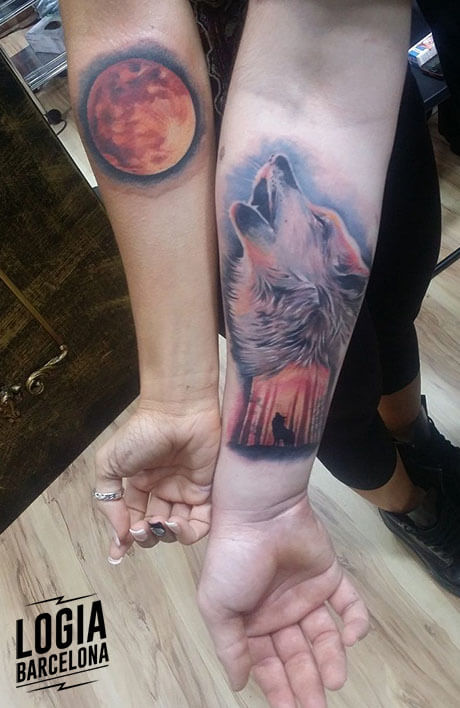 Tatuajes de animales en el antebrazo
Animals, whether they're our pets or wild animals admired by their characteristics and abilities, are a source of inspiration for many people and that is why animal tattoos are so frequent. See this beautiful tattoo of a fox on the forearm: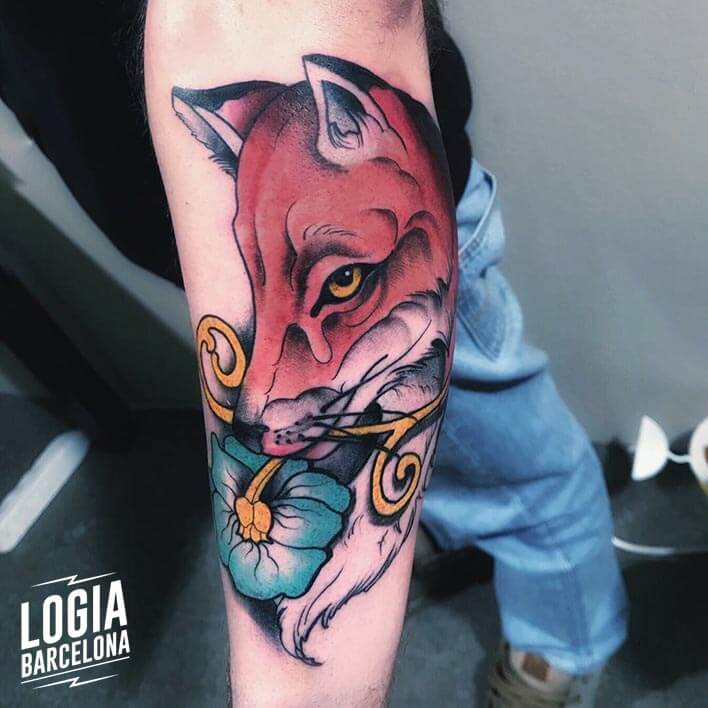 And this original unicorn fox: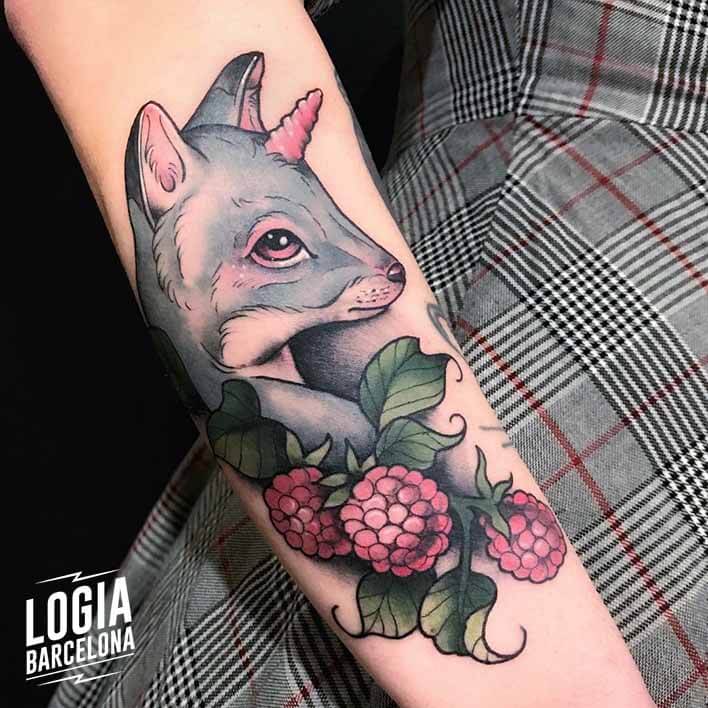 Cats are one of the most loved and cared pets, so it's quite common to see cat tattoos: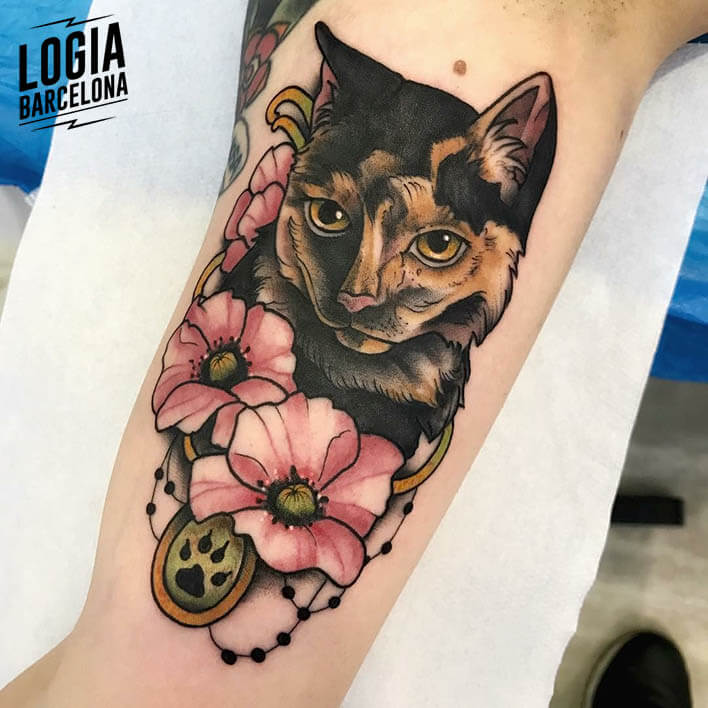 There's also fans of less common animals, like the ones that get an owl tattoo: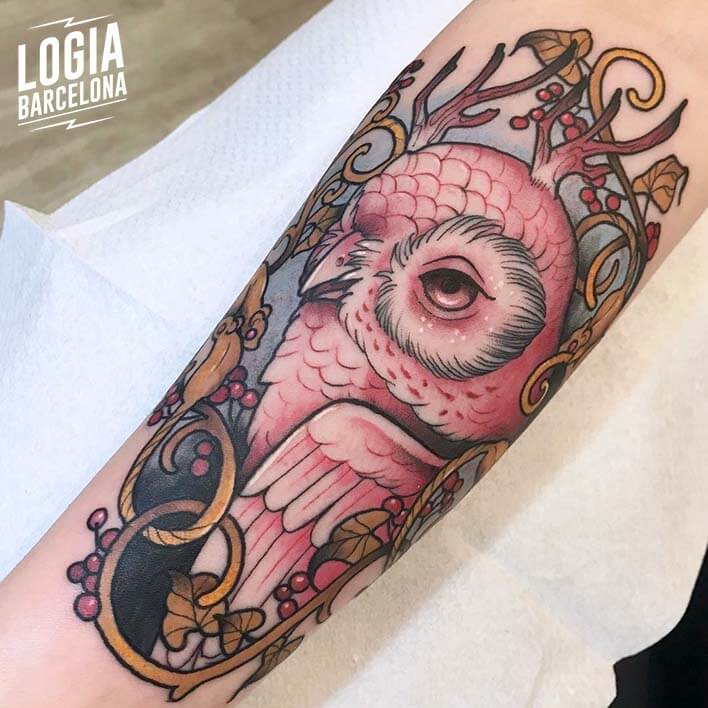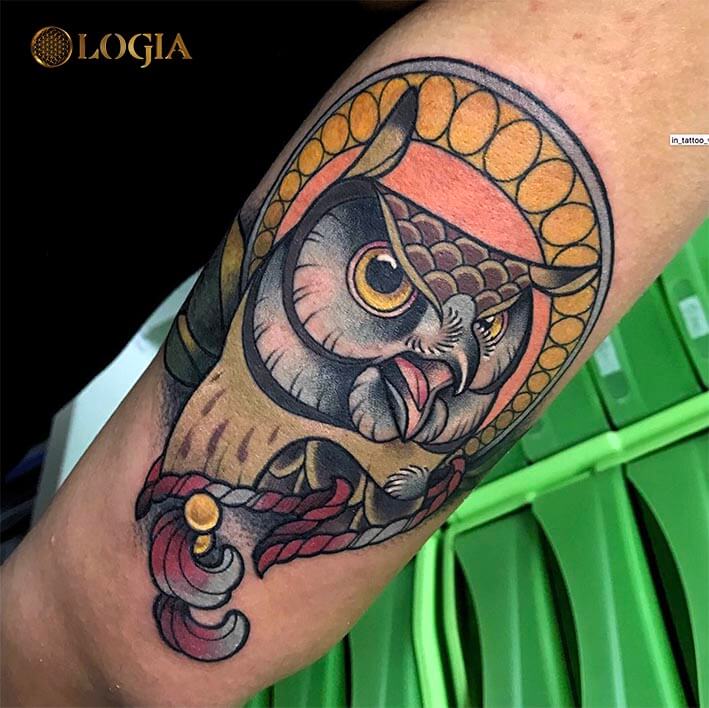 Animal tattoos are perfect on the forearm: penguins, foxes, bears, chickens, deers…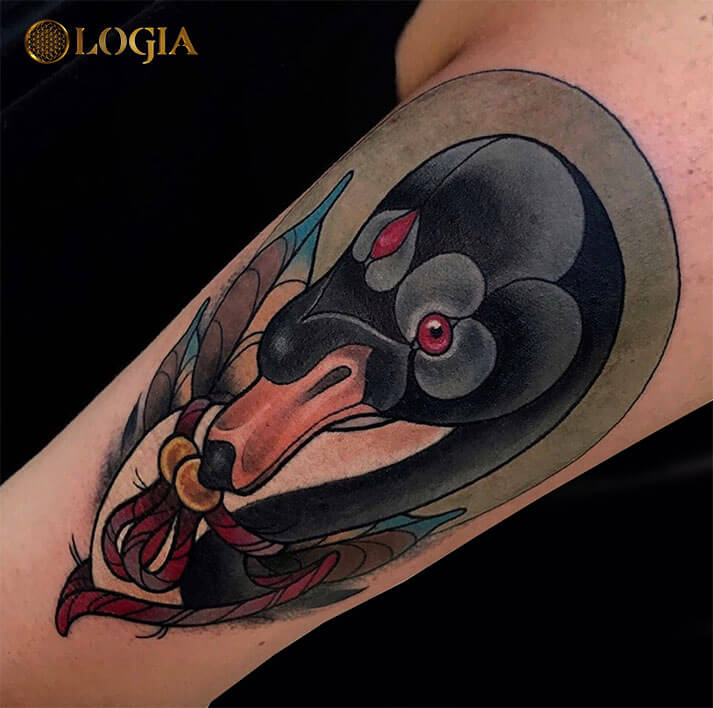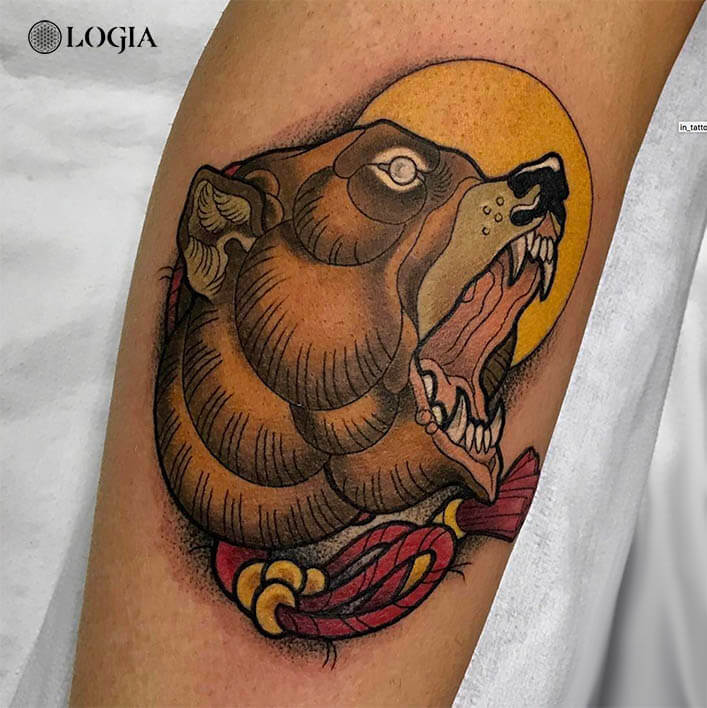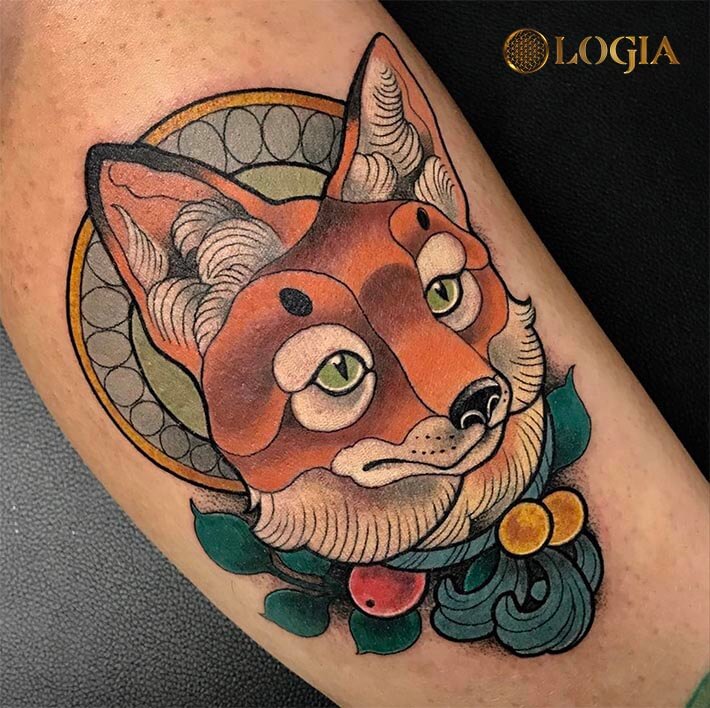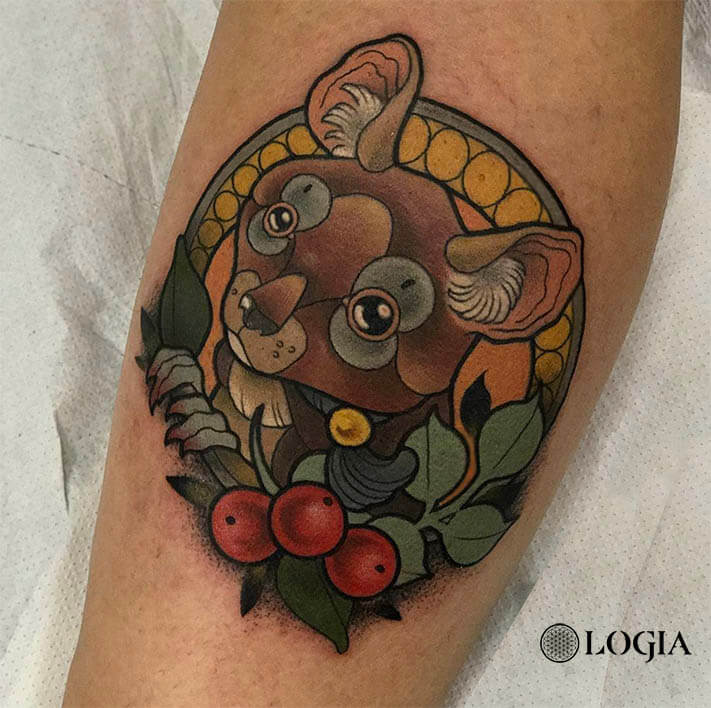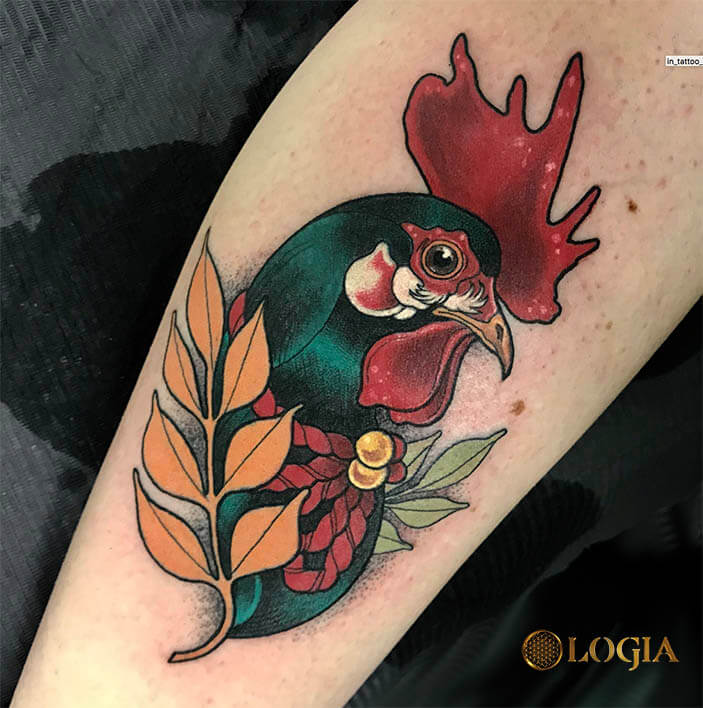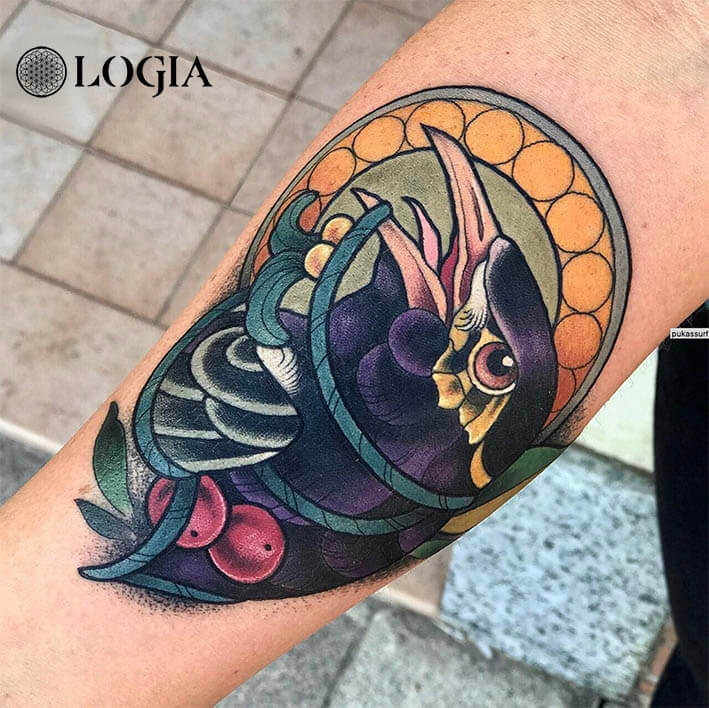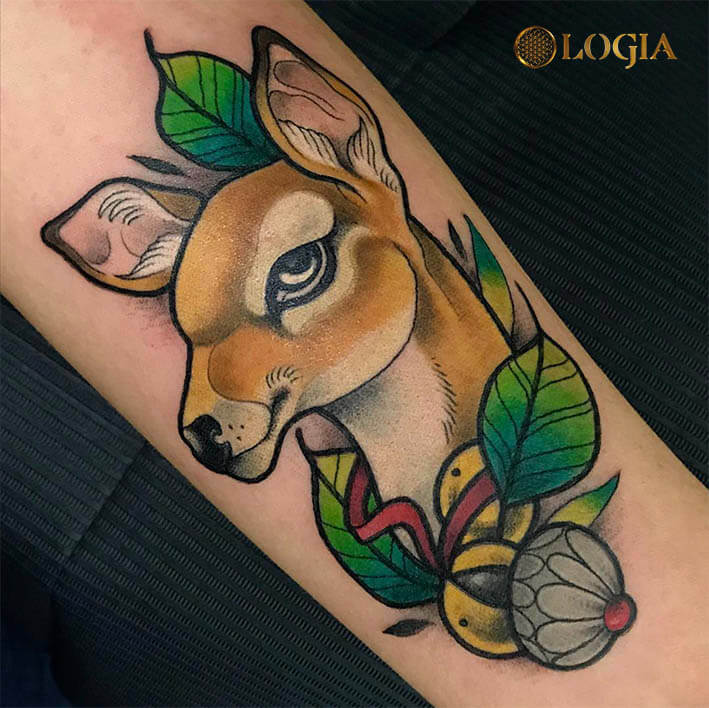 Double exposure photography finds another medium to express in the form of tattoos. This next bird tattoo design uses this technique without the used of outlines and where color is the absolute protagonist.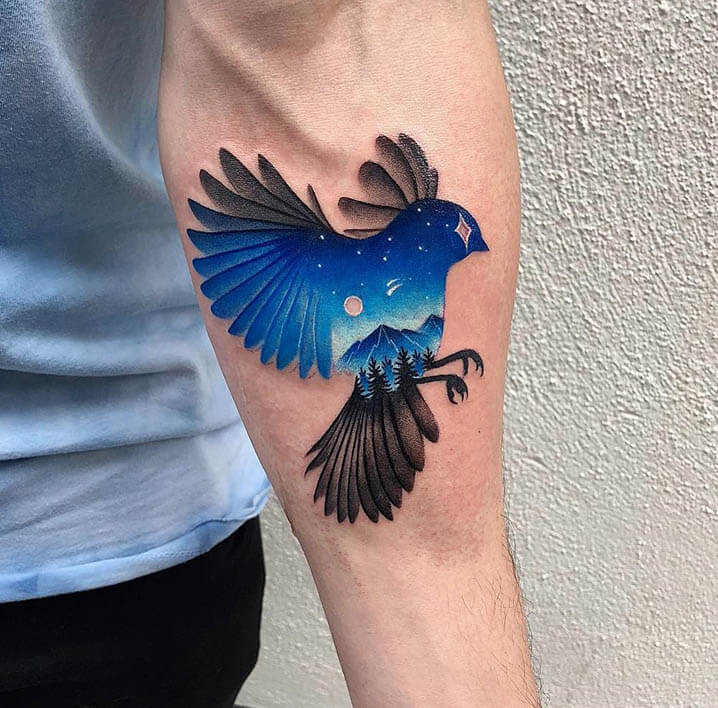 As you can see, animal tattoos can be done in a whole lot of different styles: realistic, old school, japanese or even geometric tattoos: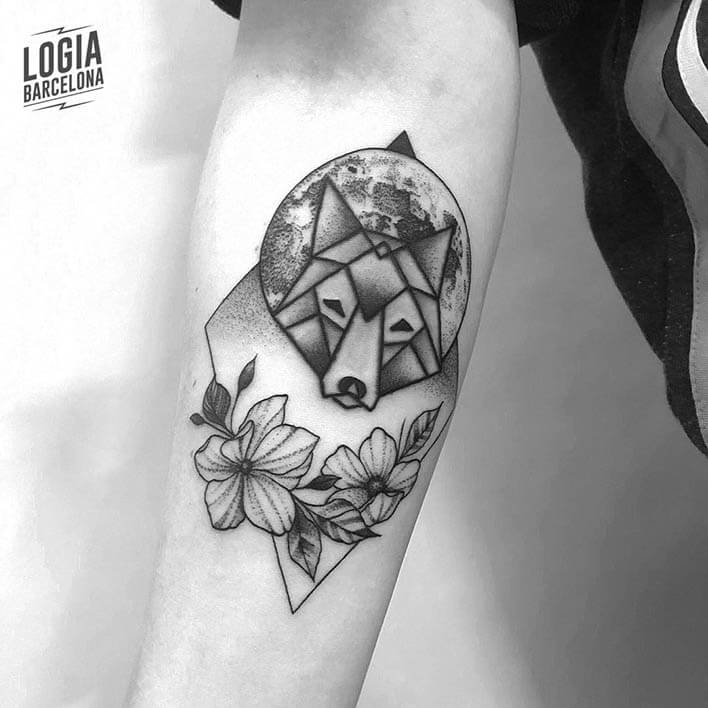 Also this original deer in sketch tattoo style: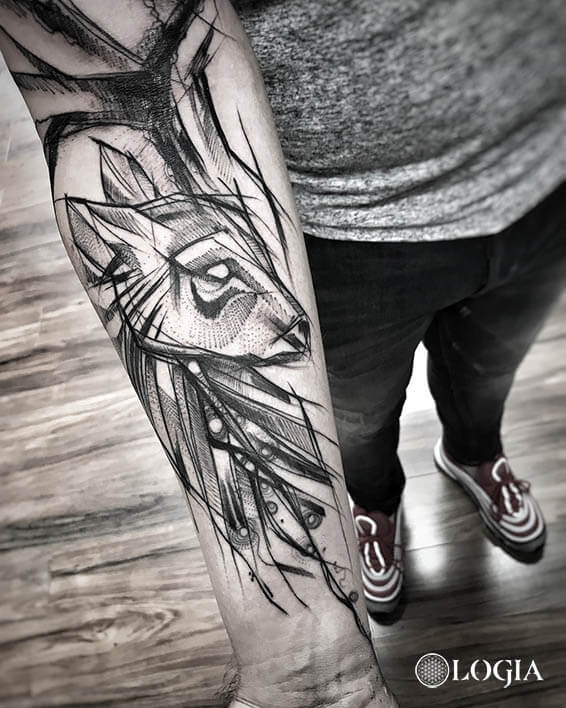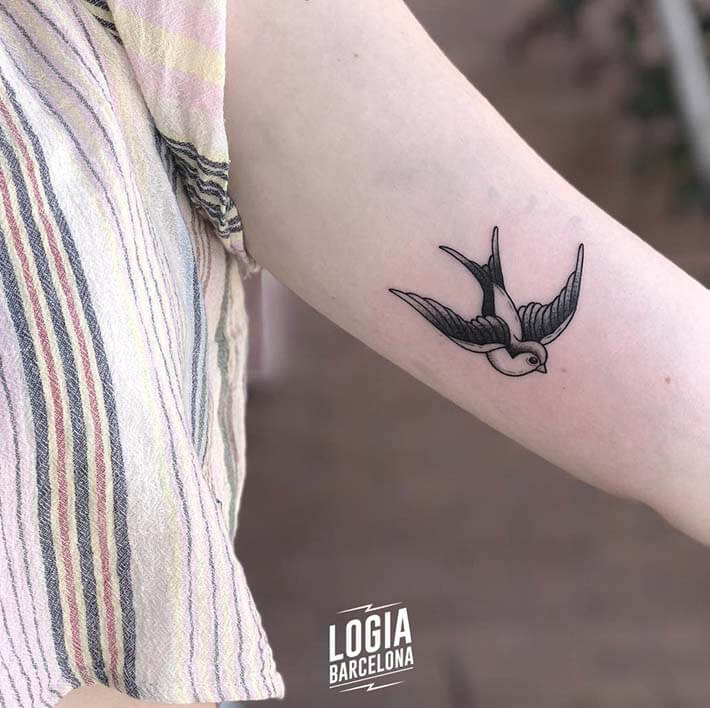 The Swallow Tattoo is one of the most popular old school tattoos. But we can also find all kinds of animals in traditional american design tattoos, like panthers, snakes, eagles or bats. Would you get a tattoo in this style?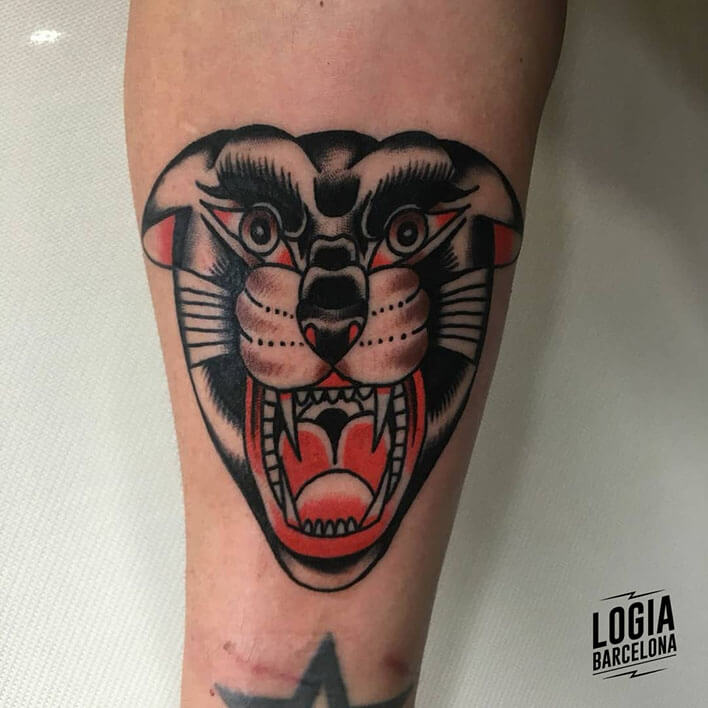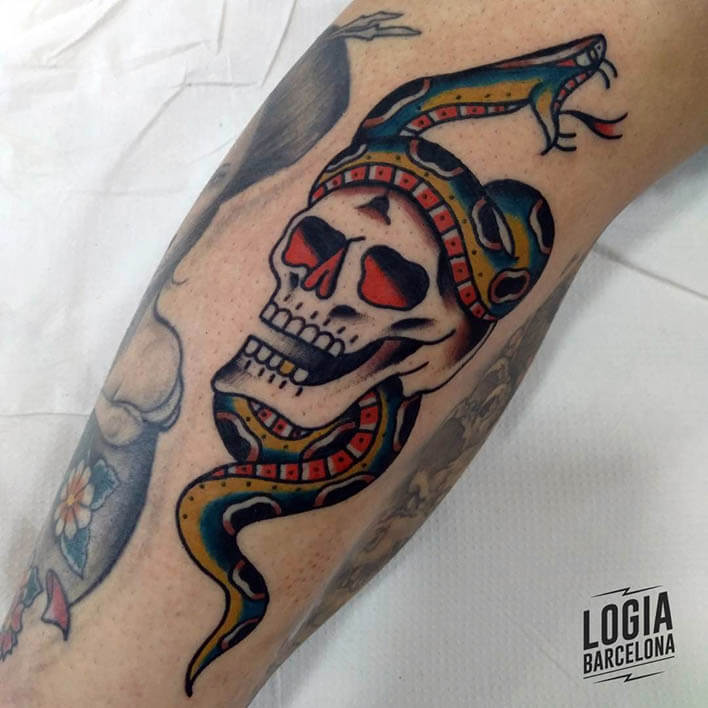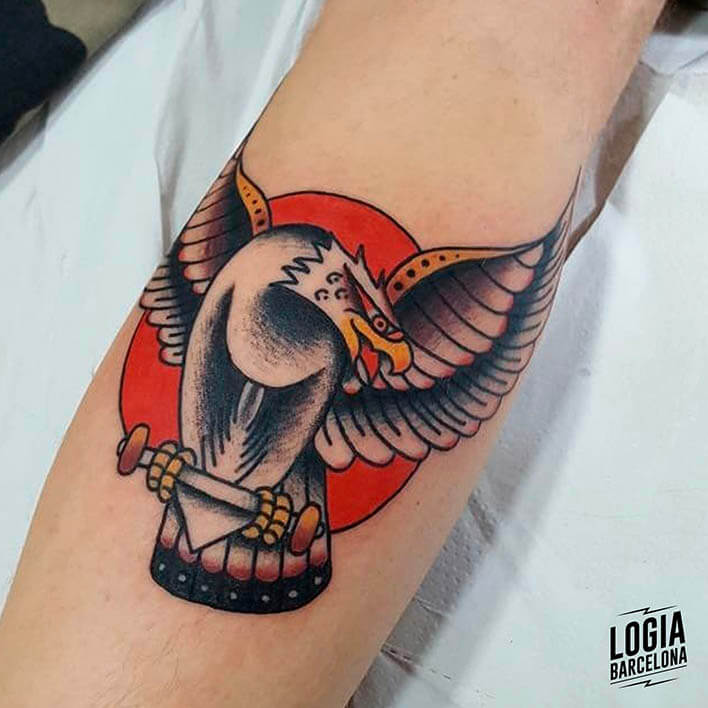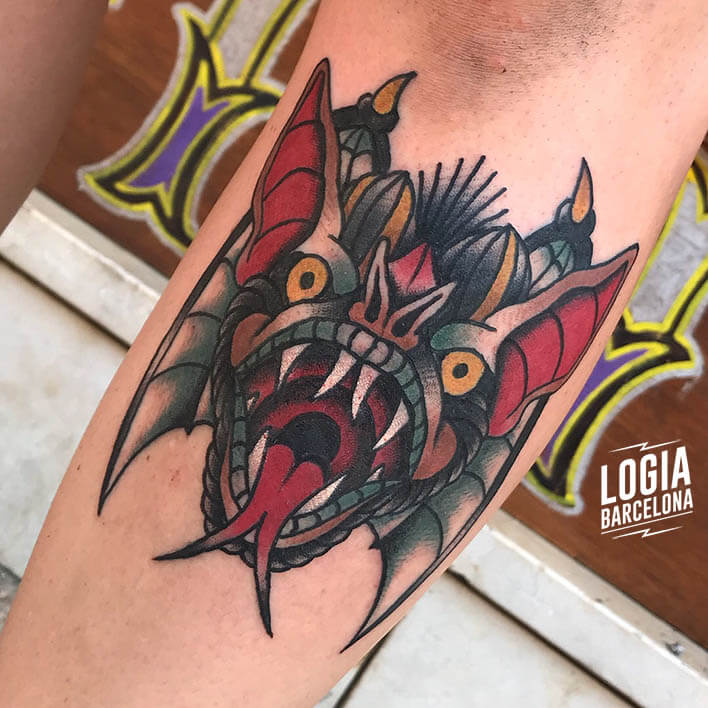 Also Blackwork and dotwork tattoos are really popular to get done on the forearm, like this bee tattoo or this hummingbird tattoo.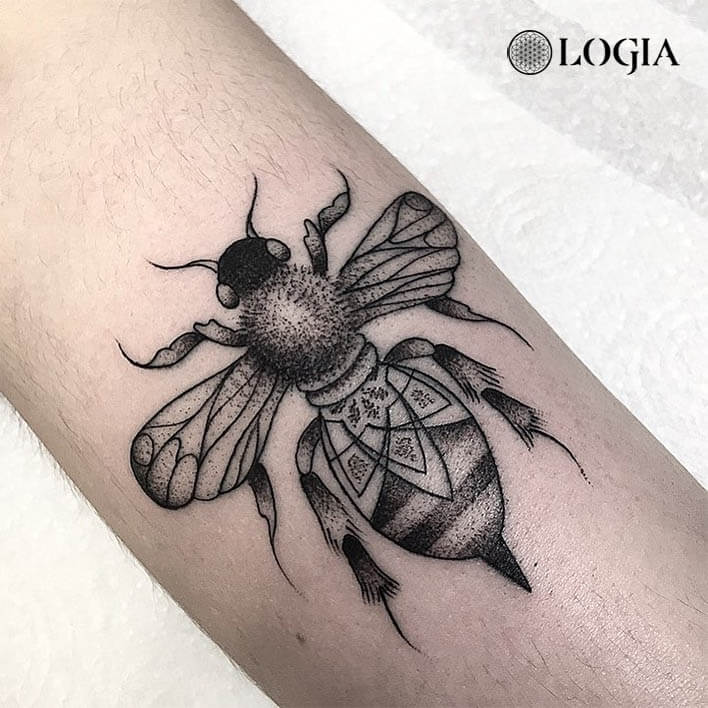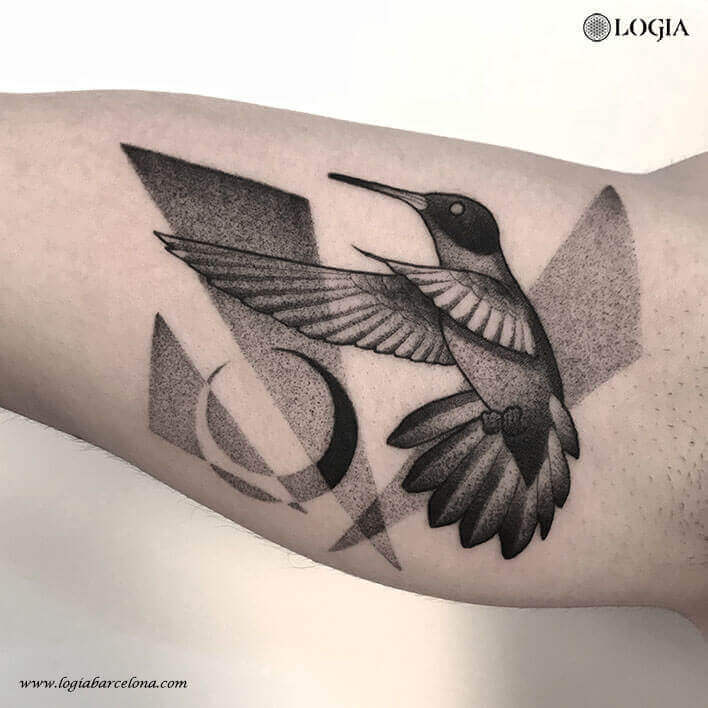 Realistic tattoos are another way of getting a pretty cool and detailed animal tattoo on the forearm: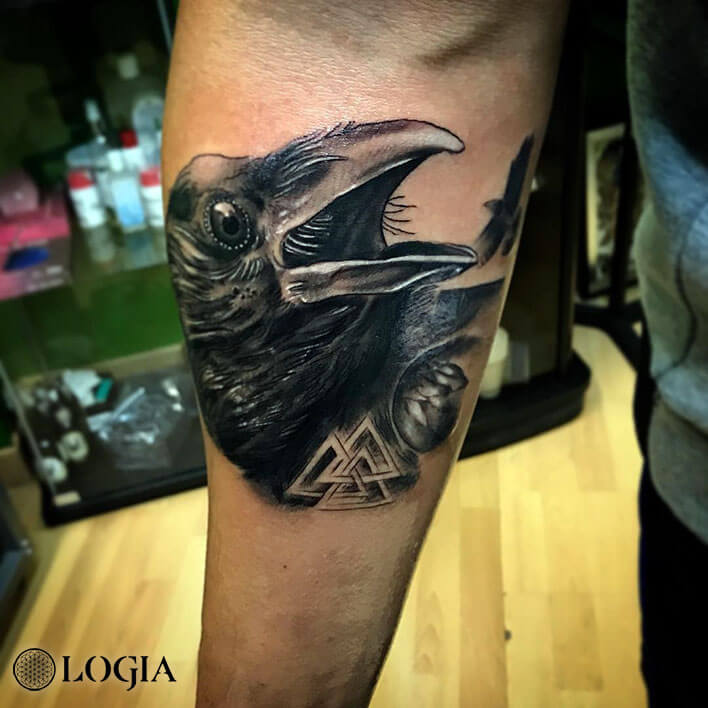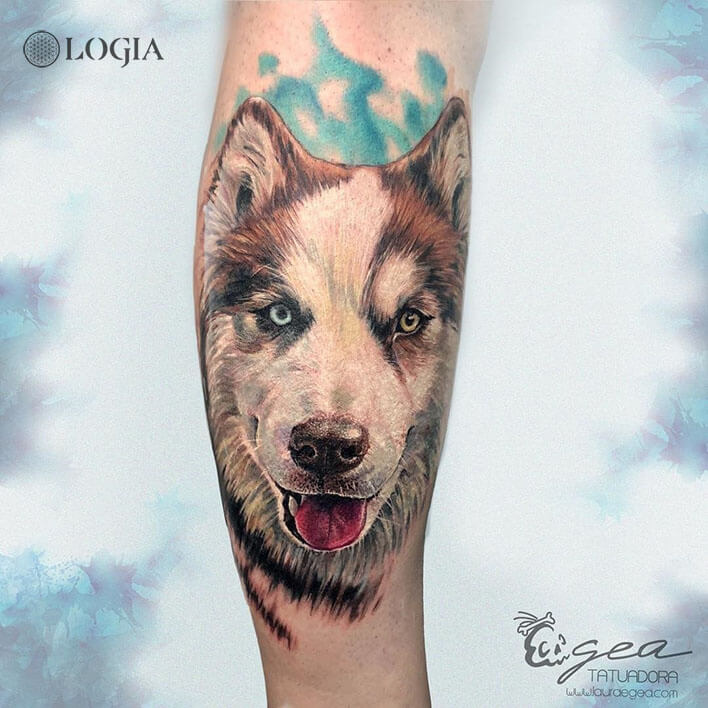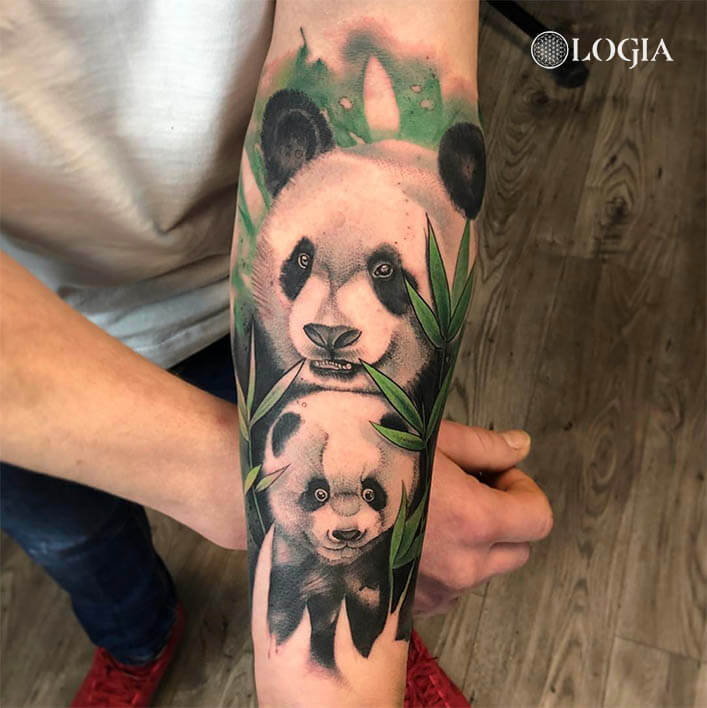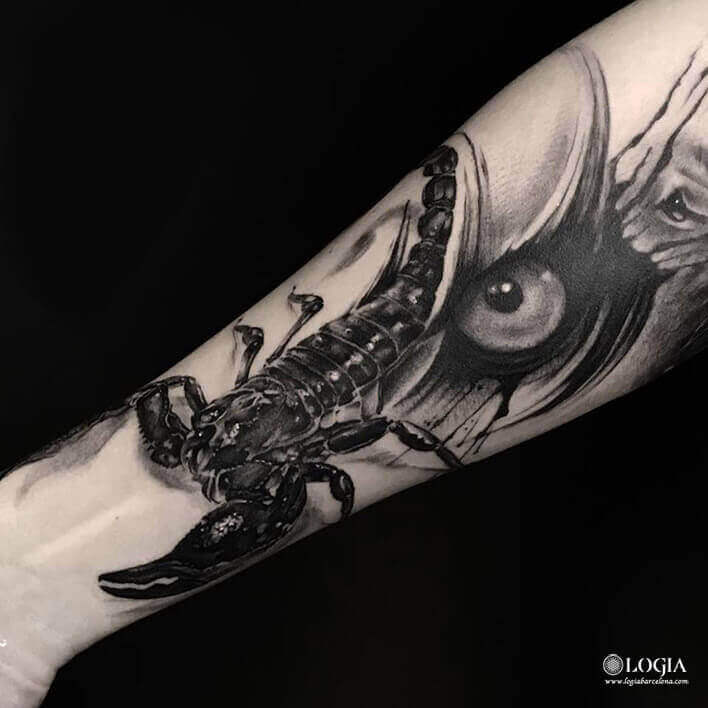 Pokémon Tattoos on the foream
You read it right! We don't know if we can consider Pokémon as animals but their cool and colourful designs do make an striking tattoo to get. Here are some forearm Pokémon Tattoos: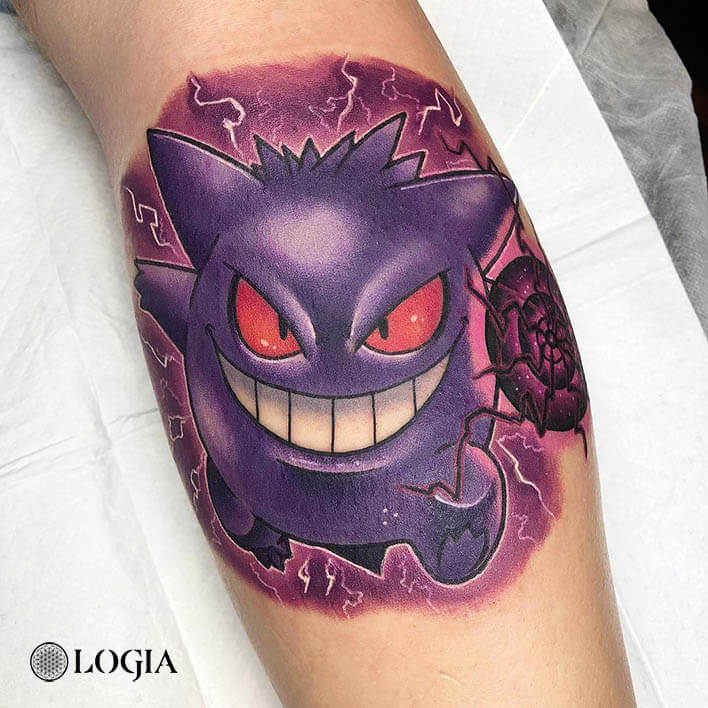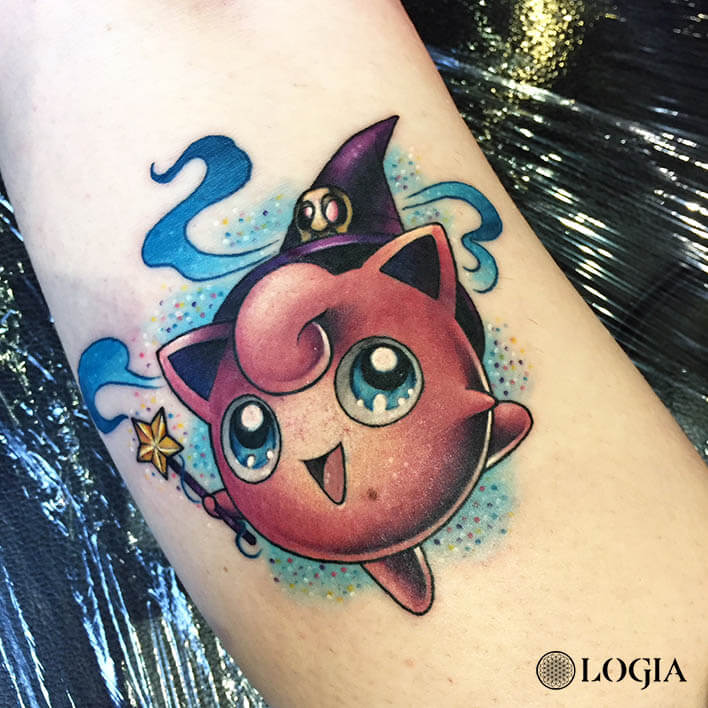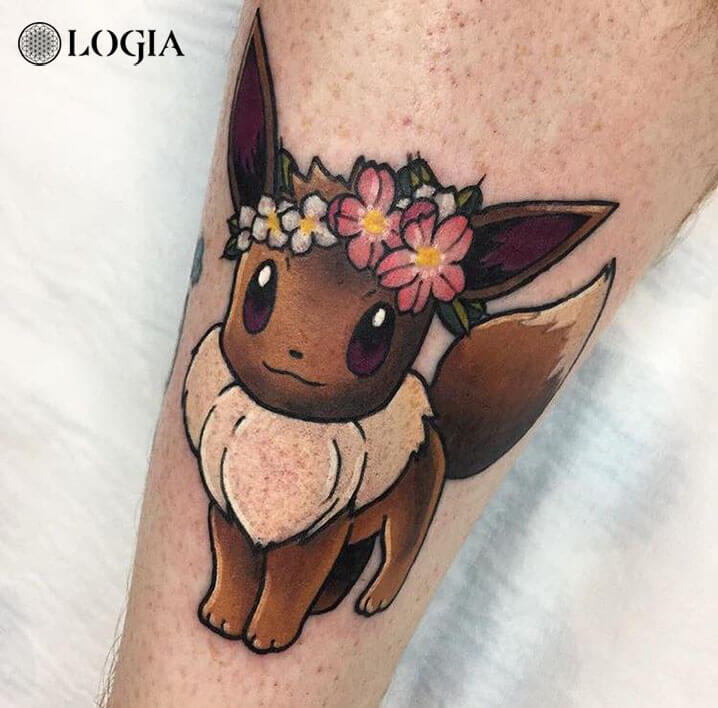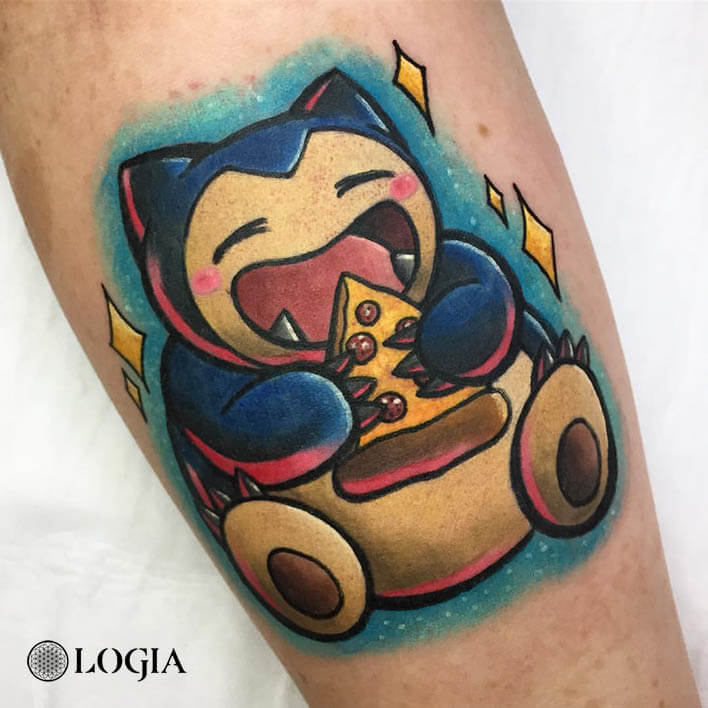 Dragon Ball Tattoos on the forearm
Dragon Ball fans love to wear their childhood heroes on their skin, tattooed in full color. Anime tattoos are really atractive thanks to the use of color in their designs: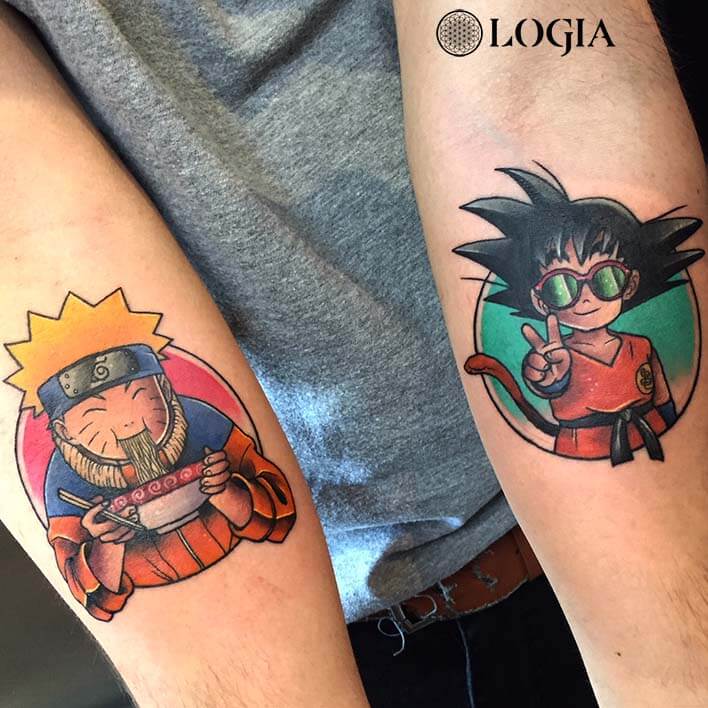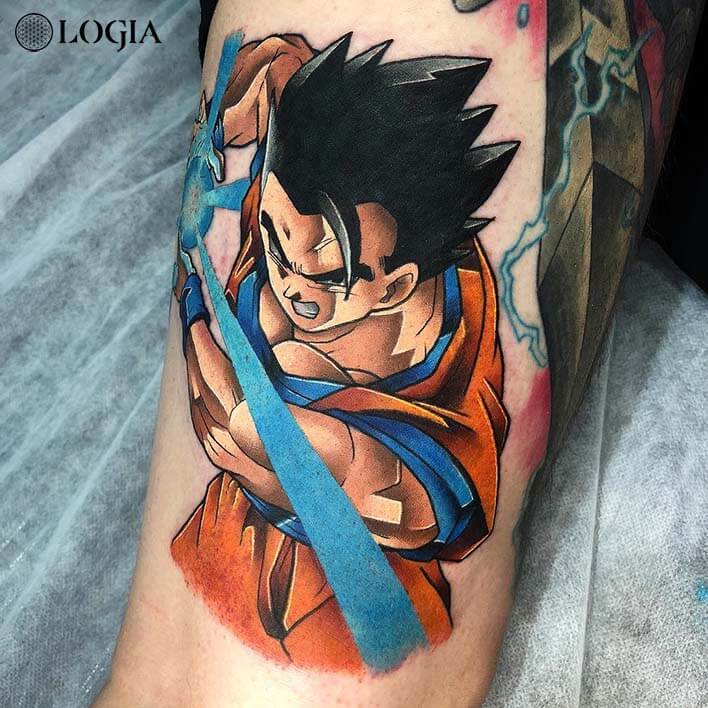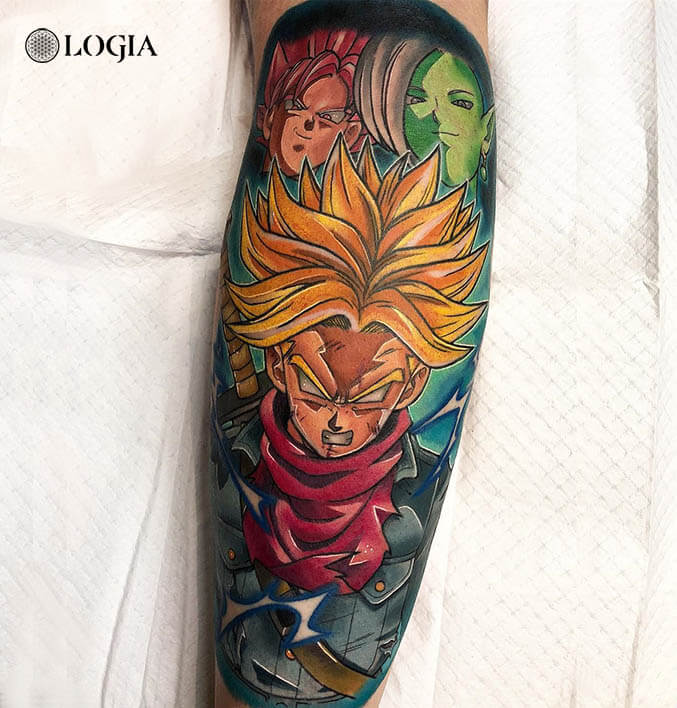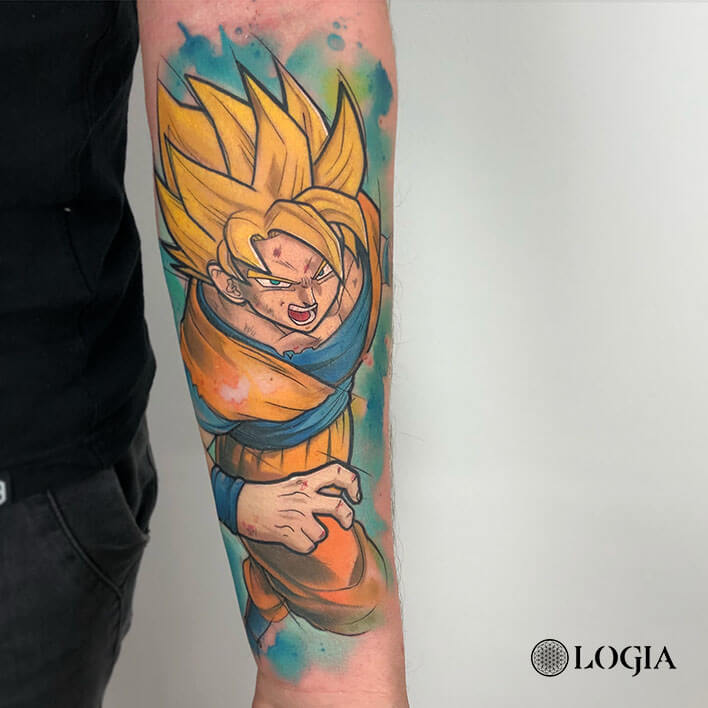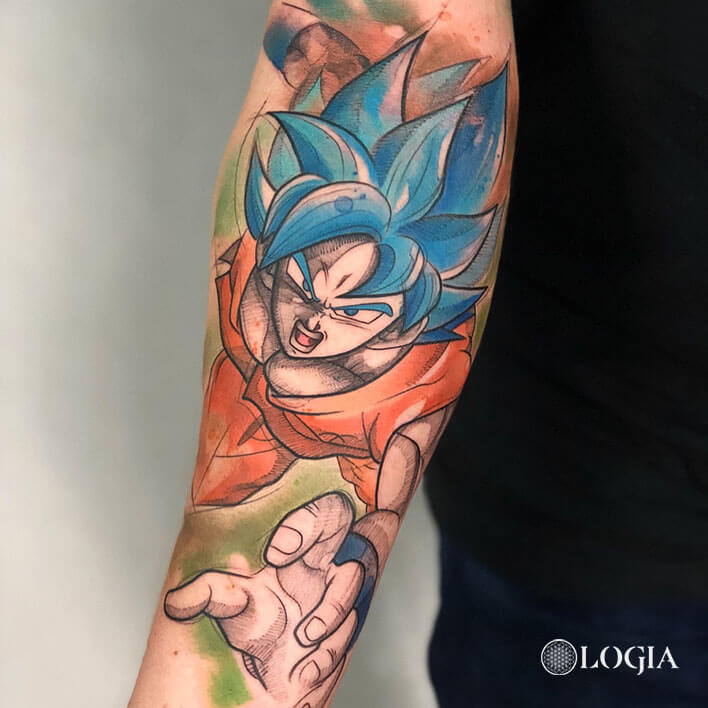 There's also really spectacular Dragon Ball forearm tattoos in sketch style. Black & White tattoos that use the technique of a not finished sketch, with shadows that imitate pencils and charcoal, giving them a lot of movement and strength: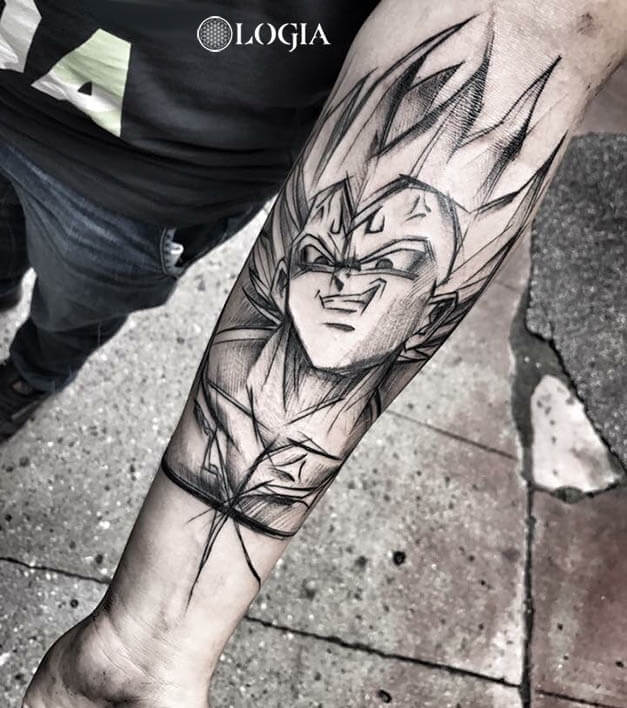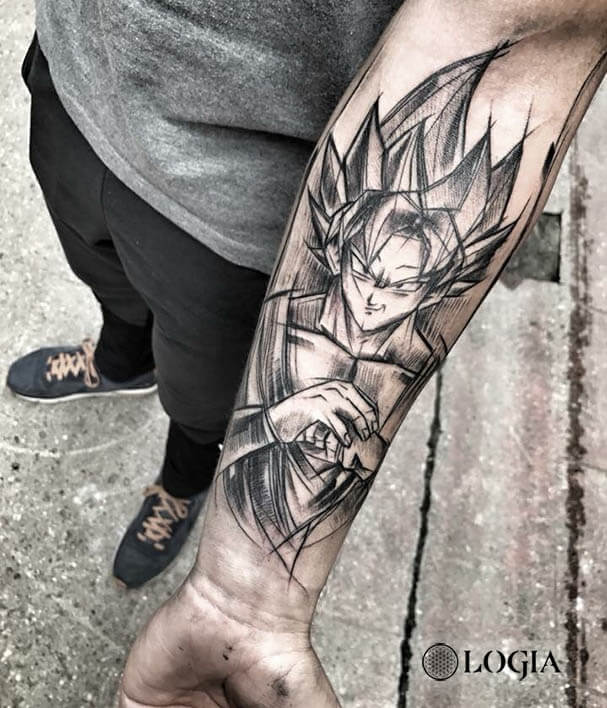 Anime tattoos on the forearm
Anime and Manga Tattoos in full color, perfect for japanese animation fans: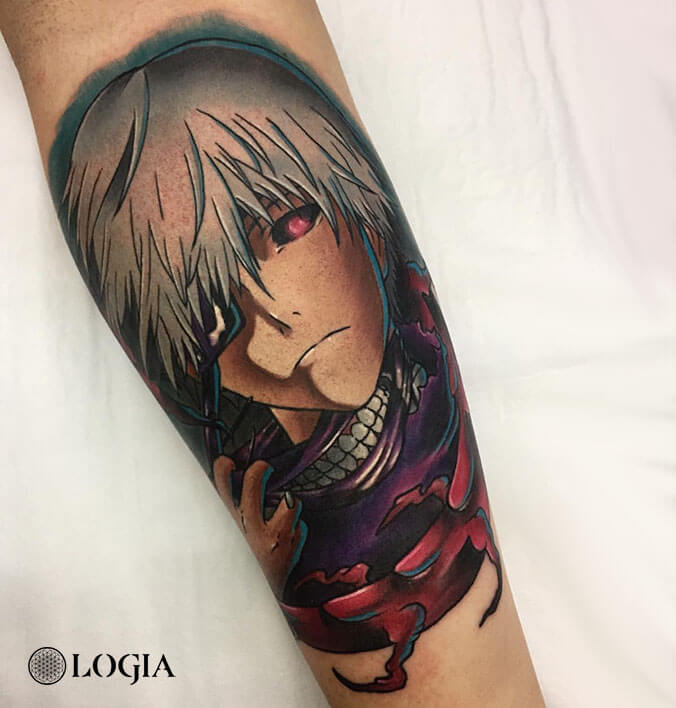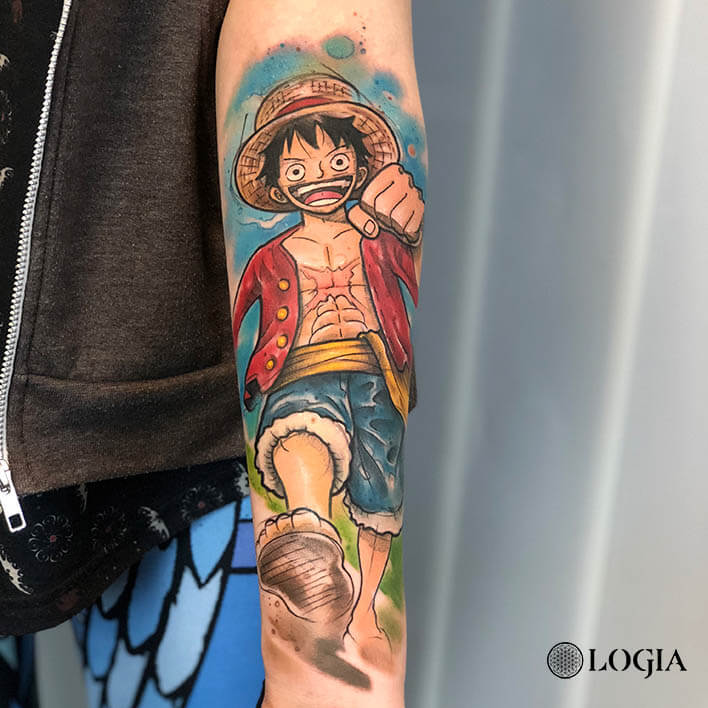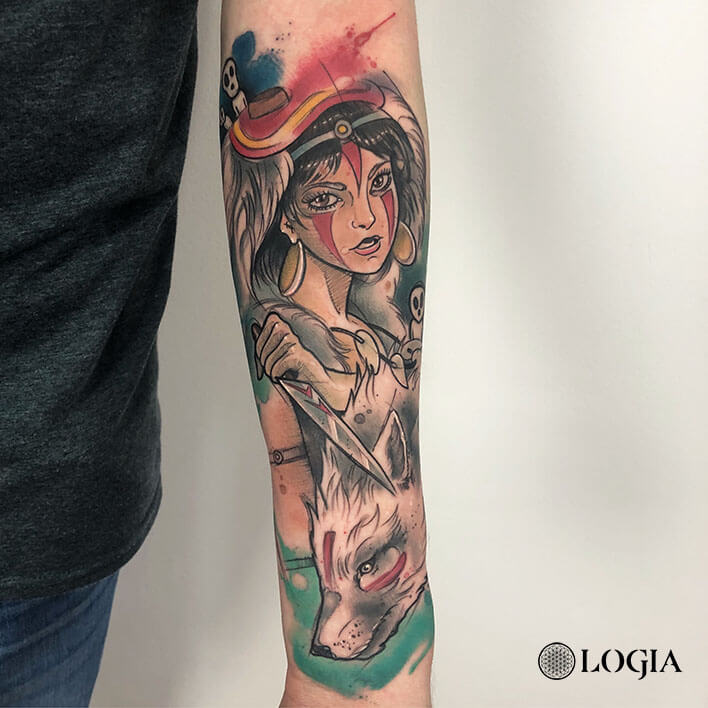 Japanese forearm tattoo
Japanese traditional tattoos mix in their designs a lot of different motifs, like animals (dragons, snakes, goldfish) and flowers. Japanese tattoo designs put a lot of detail the center figure as well as the background of the design, and it is common to fill with ink all the black spaces: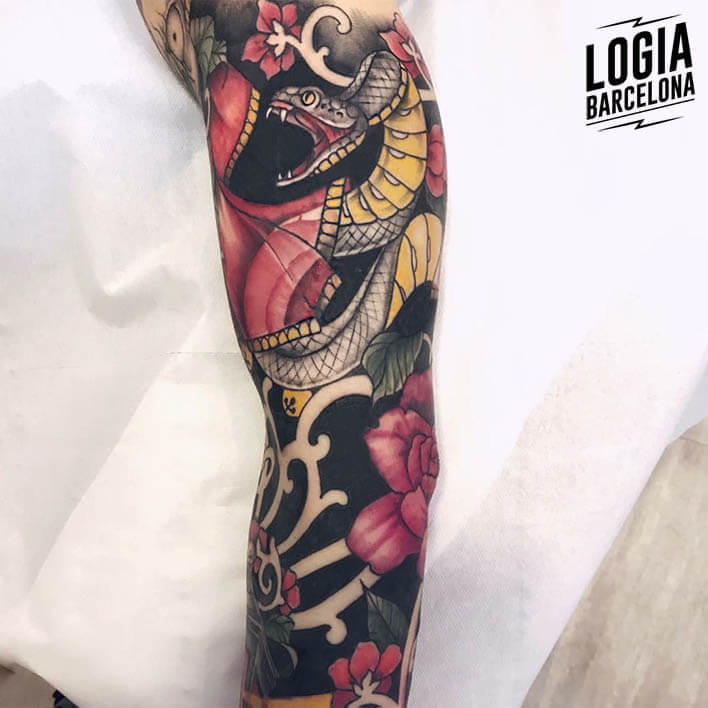 Japanese demon tattoos are also a really popular motif: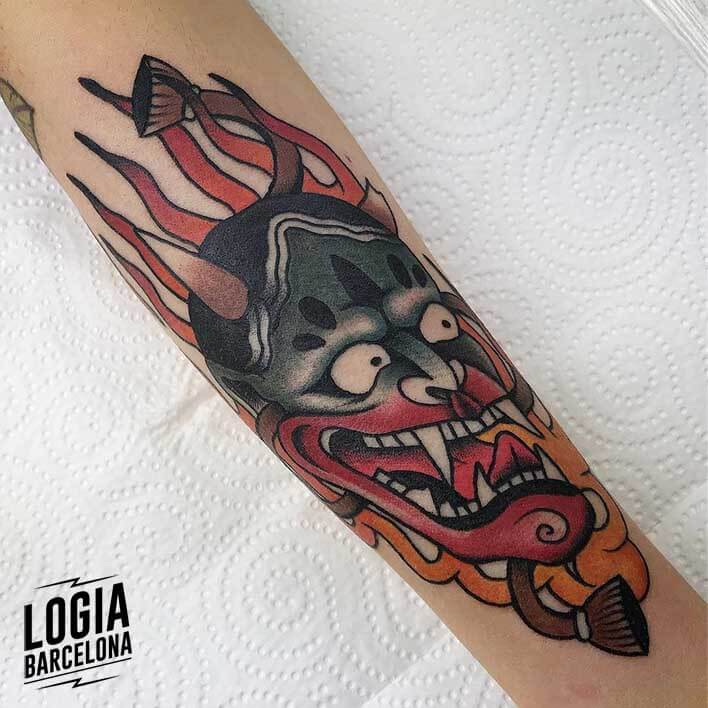 Designs like Geisha tattoos can also be found in less traditional and more new school designs: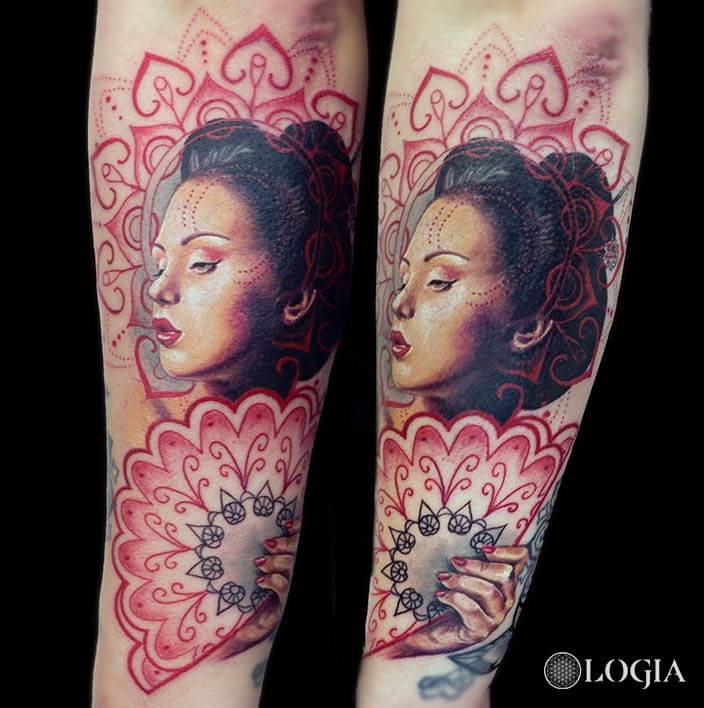 Flower tattoos on the forearm
Flowers, specially roses, are a really popular design in the tattoo universe. Flower tattoos rangefrom full color and realistic to a more minimalistic approach in black & white, all depending on the client's taste: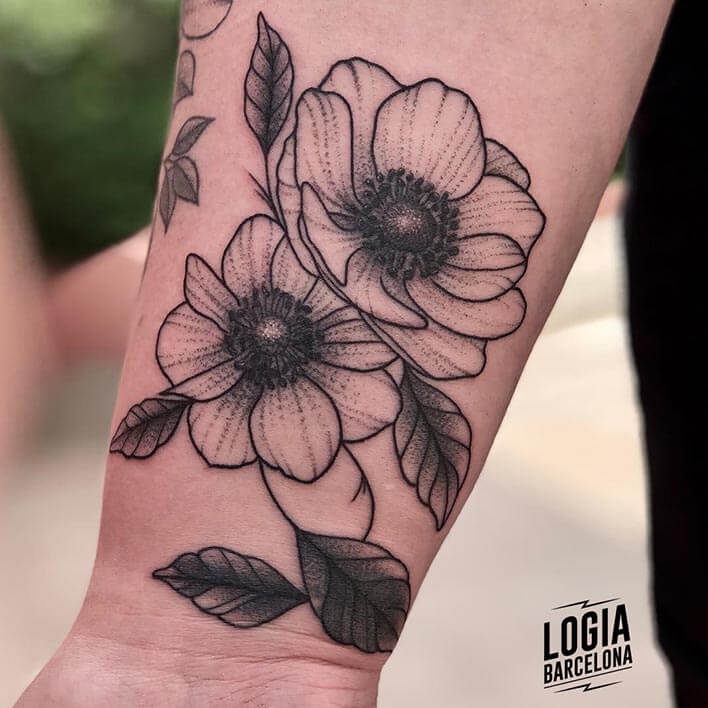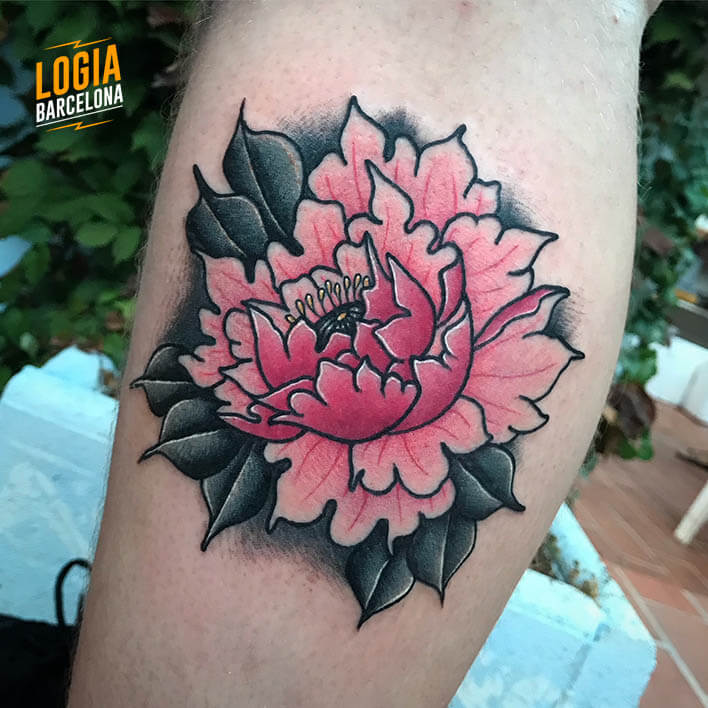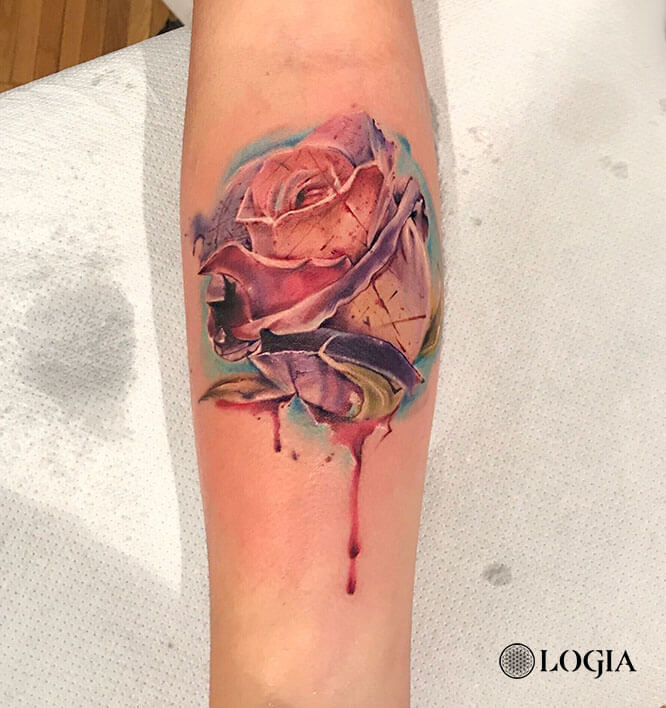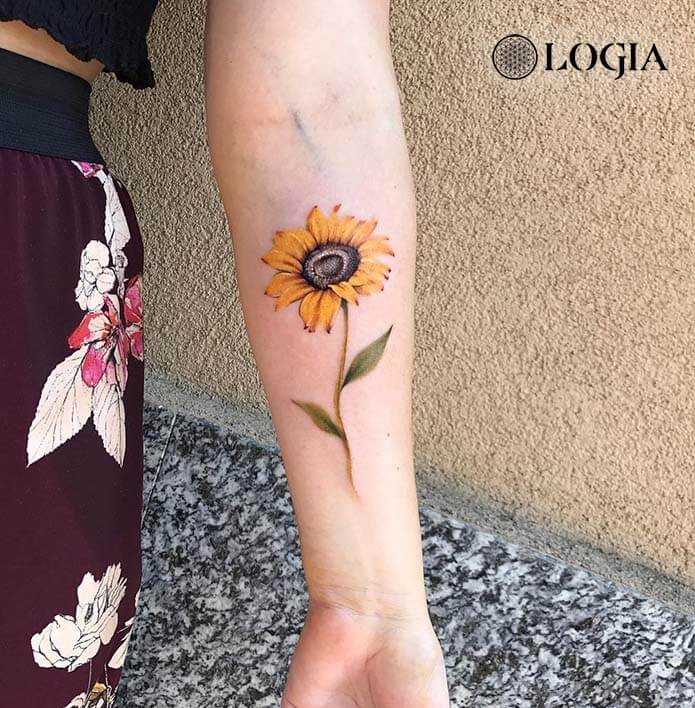 Evolution in designs is a constant in the world of tattoos. That's why geometric styles are really popular right now with designs like this, mixing sacred geometry and technical drawings with a lotus flower:
Geometric tattoos on the forearm
Geometric designs have a lot of fans thanks to their simple lines. In its simplicity, difficulty is born. This kind of tattoos are really minimalistic and use really clean lines that must be tattoed perfectly, without hesitation.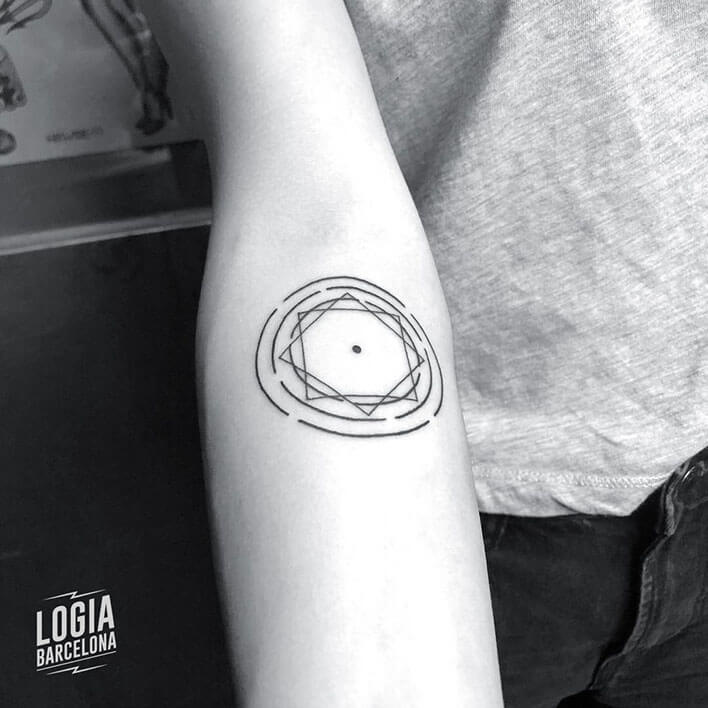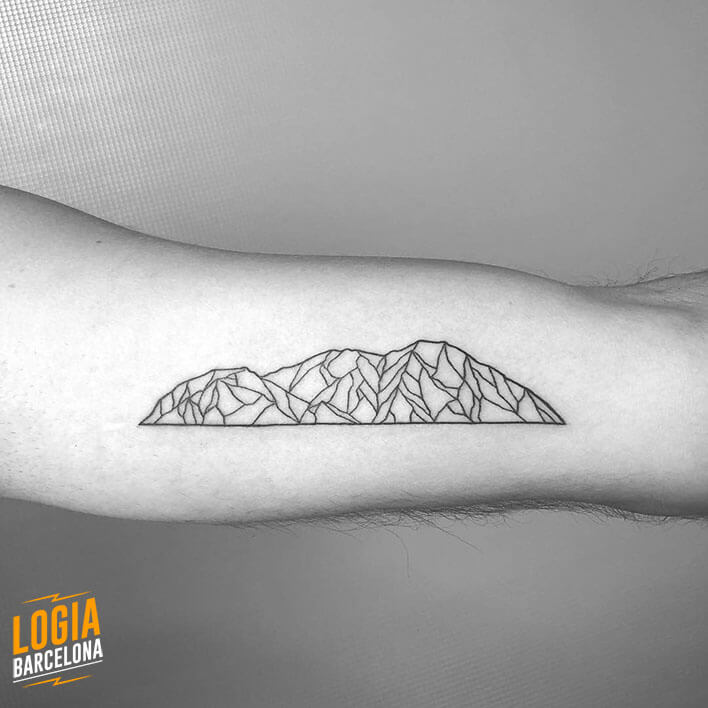 In the next geometric tattoo, the design mixes sacred geometry with an impossible figure like an Escher pyramid in 3D.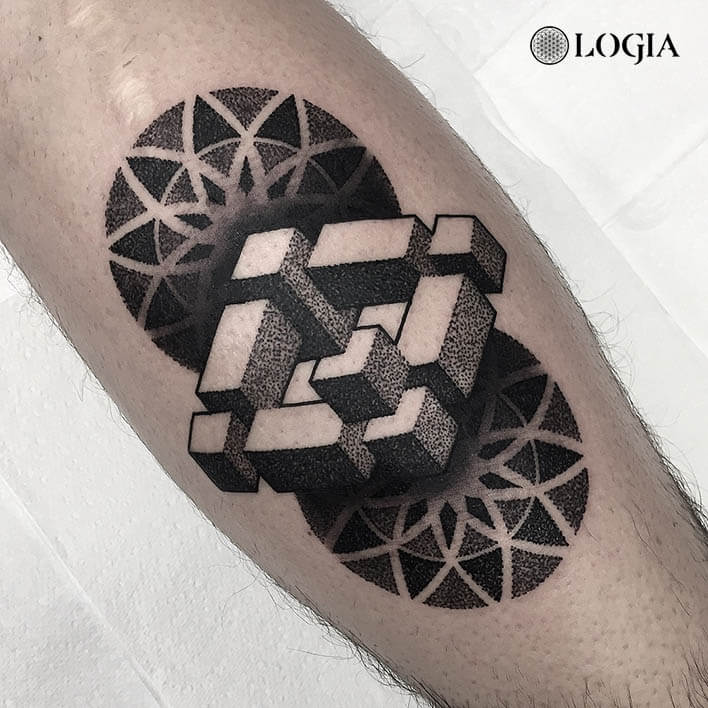 This next one mixes the humour of a Lego piece with sacred geometry: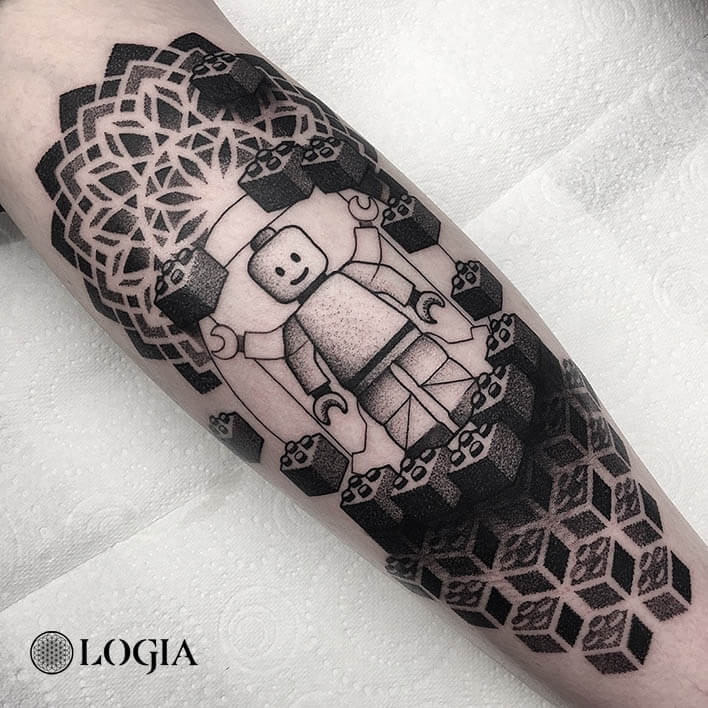 Portrait tattoos on the forearm
Portrait tattoos can be very different from one tattooer to another and from one tattoo style to another. In old school style, the portrait is not intended to be very realistic, rather it is a beautiful drawing that holds emotions and meaning to the wearer: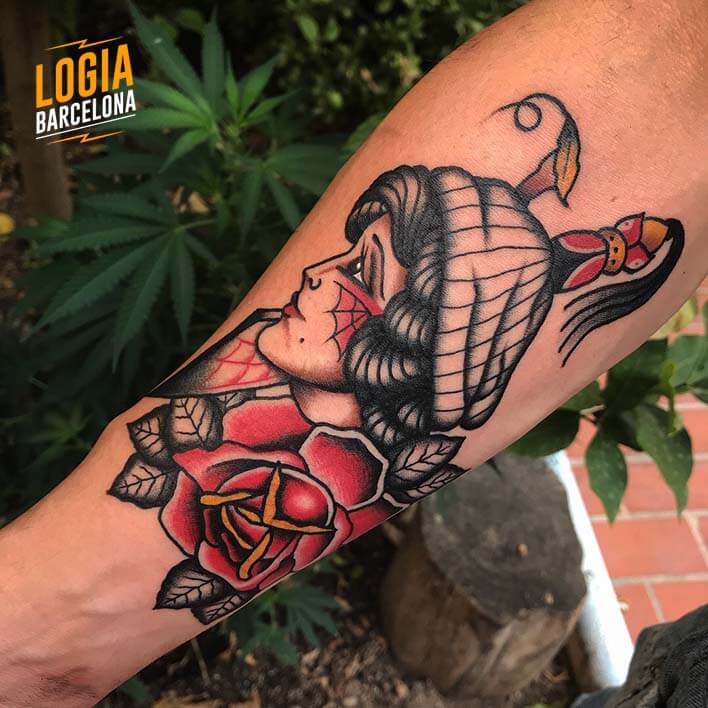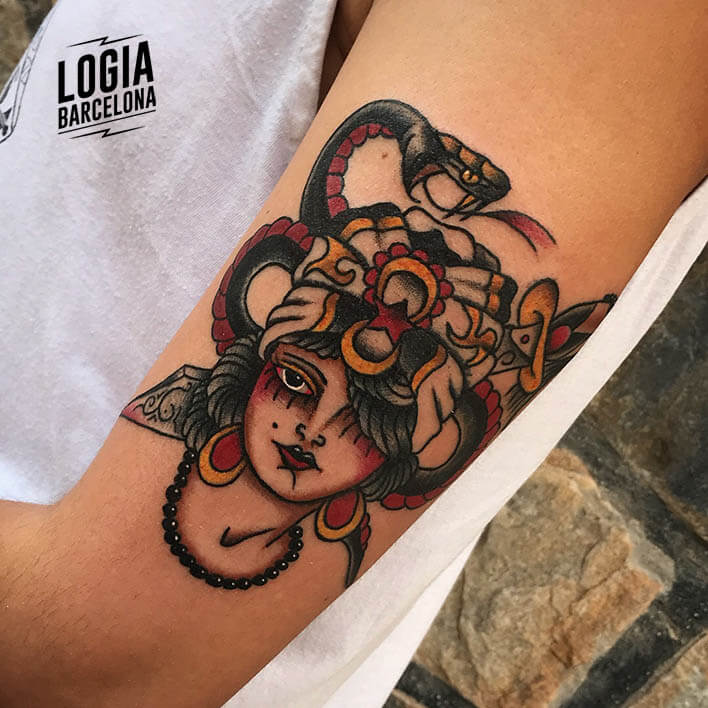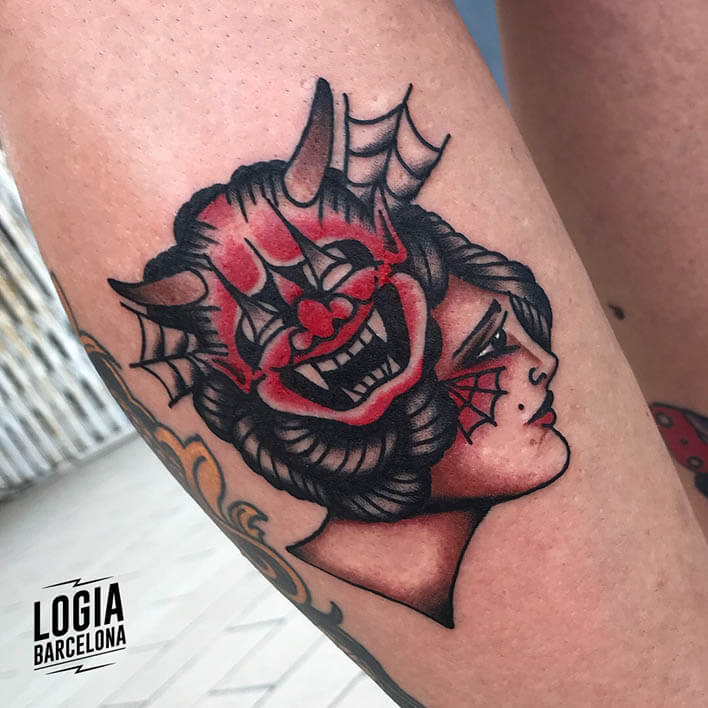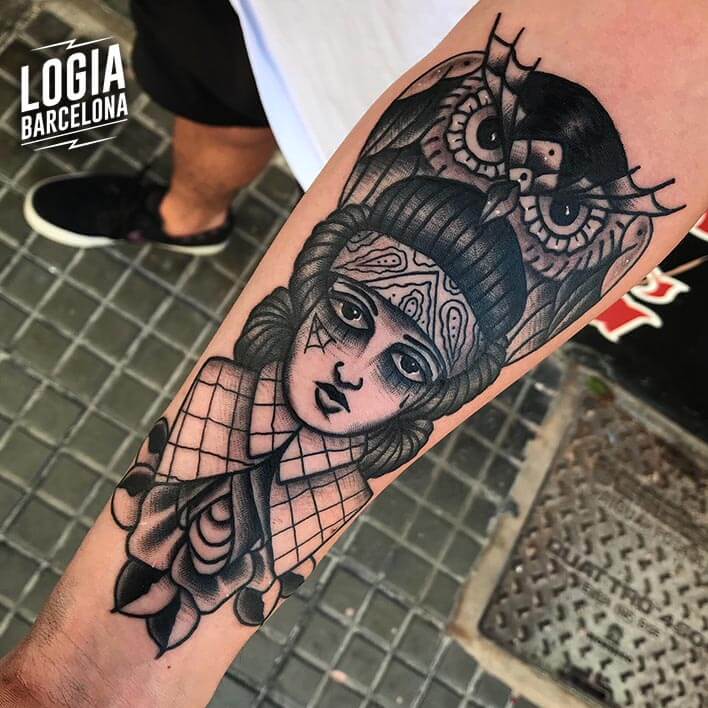 This beautiful and original tattoo sits in between new old school and comic styles: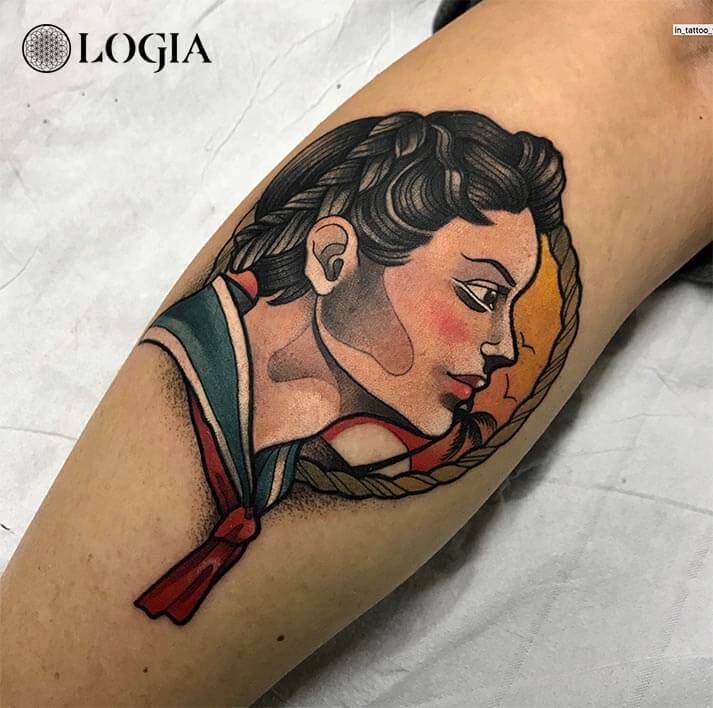 Of course we cannot forget realistic portrait tattoos. They're some of them ost spectacular designs we will find: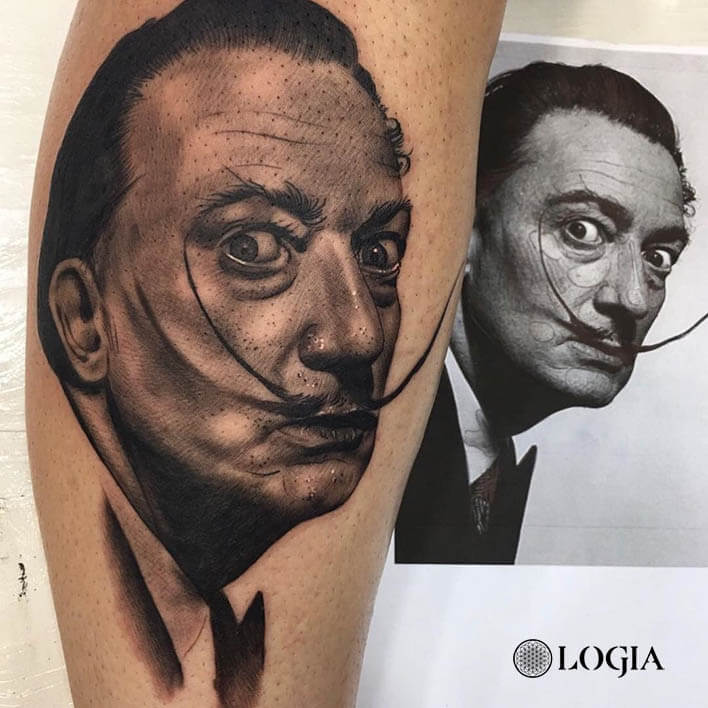 Movie tattoos on the forearm
Cinema fans can also decide to get a movie tattoo.One of the most popular requests is to get the tattoo of a character from a movie that holds a deep meaning to us.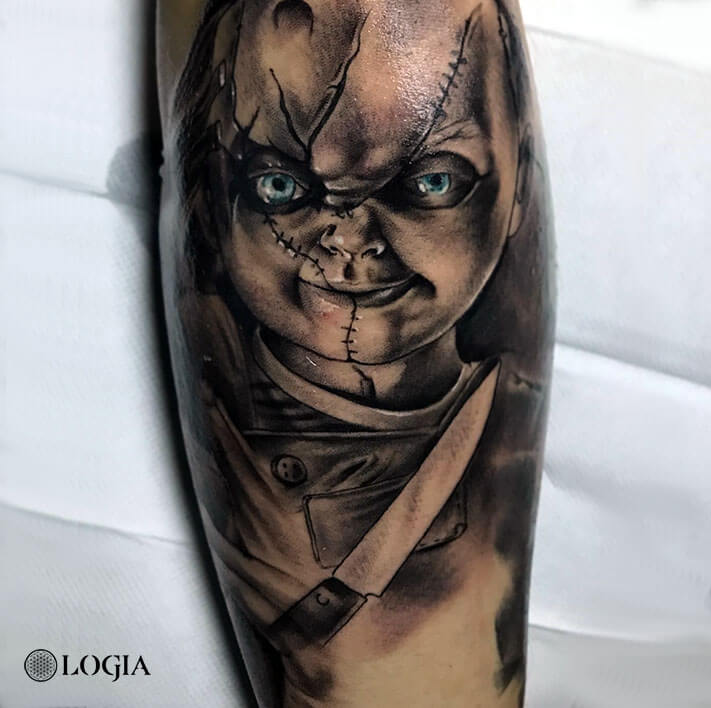 Star Wars tattoos are really popular. How to get it to be an original piece? Well, mixing styles is always a good idea. This one shows a Stormtrooper in sketch style.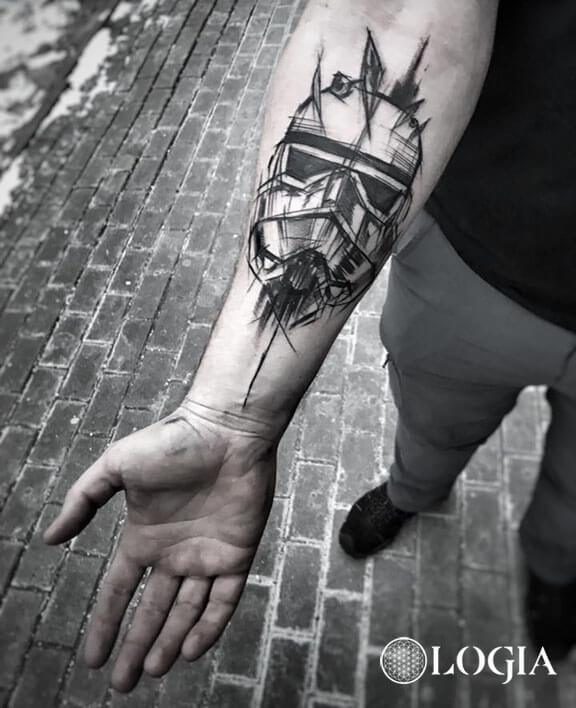 Tenderness and humor also get a spot in movie tattoos, like this one of Mike Wazowski from Monsters Inc.: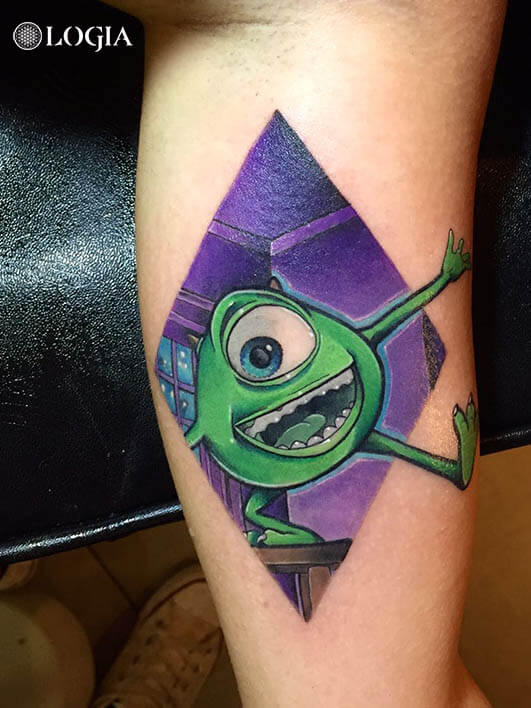 Or a Flintstones tattoo:
Series lovers and realistic tattoos fans meet in the fierce Viking Tattoos: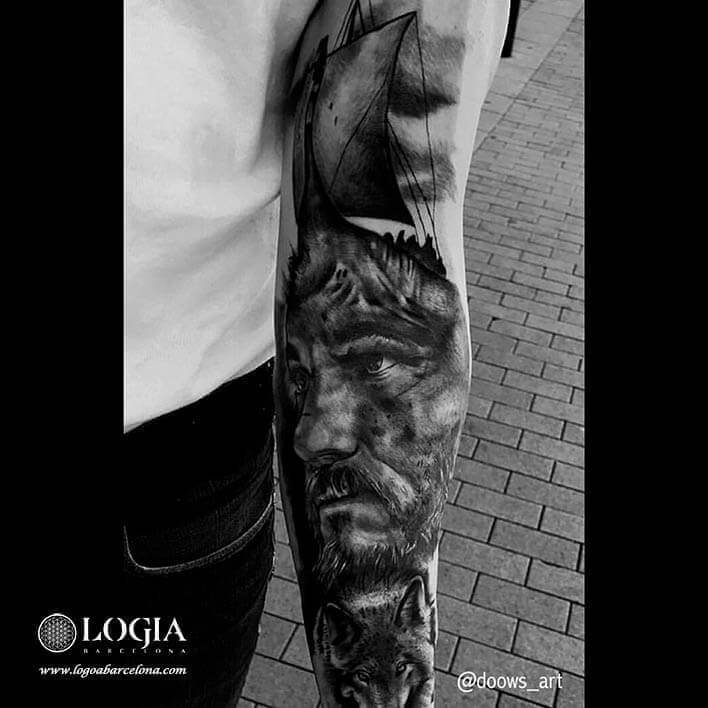 And for the old school films fans we also have some cool tattoos: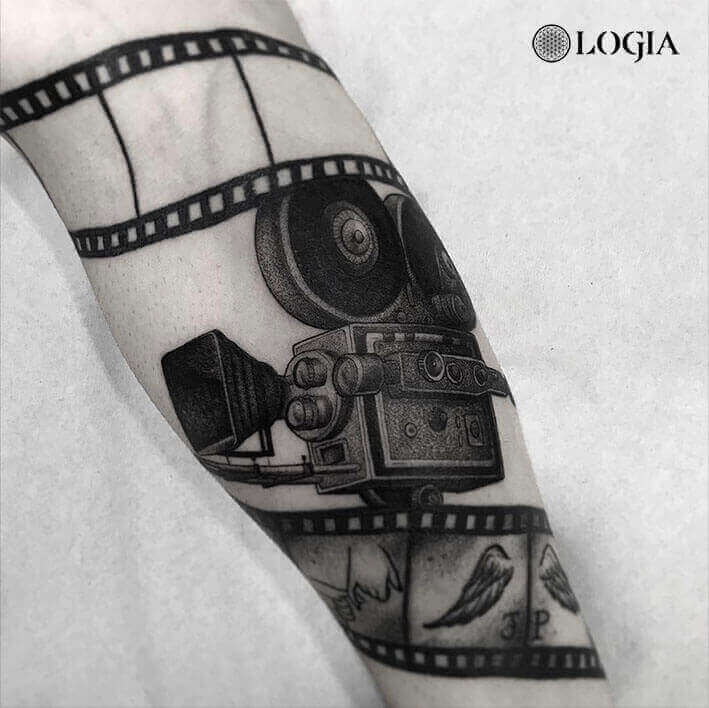 Skull tattoos on the forearm
Skull tattoos are a classic tattoo, both on their own or as a filling for bigger pieces. There are a lot of different kinds of Skull Tattoos: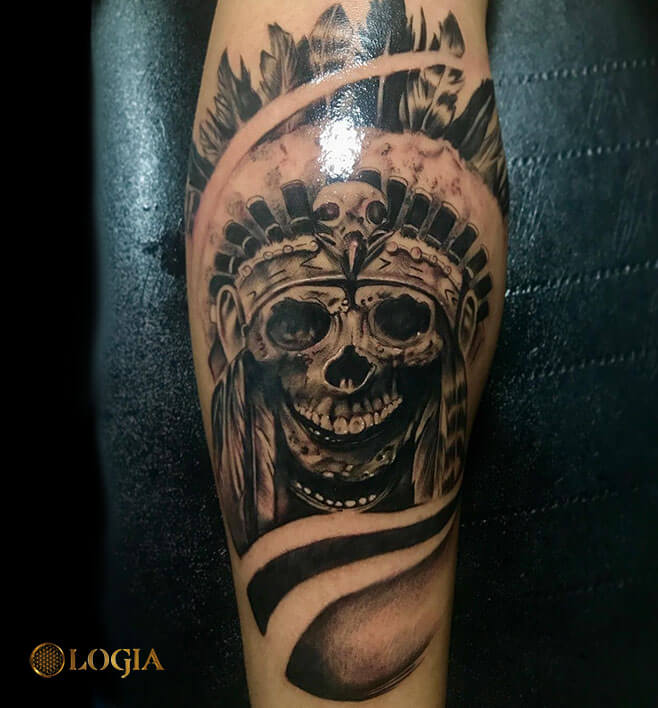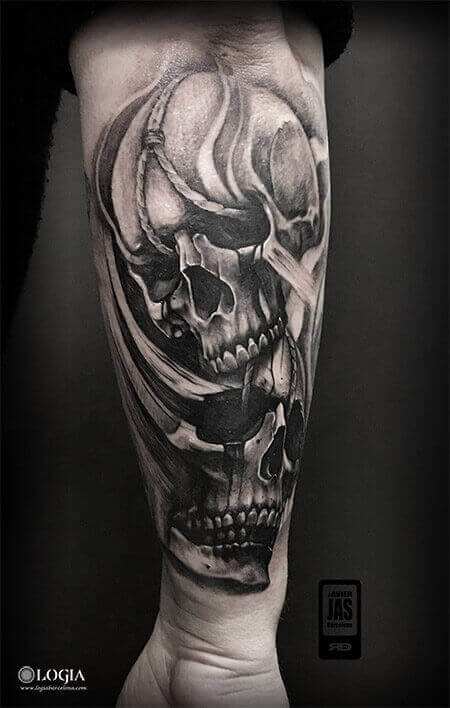 That was a lot of tattoo designs ideas for your forearm! Did you see any ideas you fancy? Get in touch with Logia Barcelona and our team of tattooers will prepare a tattoo design just for you, according to your personality and personal taste. Visit us at the best tattoo shops in Barcelona!