The first lighthouses that were built in the Mediterranean Sea were built in the 7th century BC. The Alexandria, considered one of the seven wonders of the world, is one of the most impressive. Before the great amount of shipwrecks that were produced, the Greeks decided to raise in the island of Pharos a tower of marble of 134 meters of height. It happened 285 years before Christ and was crowned by a powerful fire.
The meaning of lighthouse tattoos
Since then, the lighthouse is associated with the safety of navigators. The light of the tower is responsible for guiding them in their nocturnal and guide them on their way. It is, to put it in some way, the protection of your trip. It also represents a symbol of stability, since it stands the test of time and overcomes the inclement weather.
The lighthouse is a classic in the motives of tattoos old school, look at these two examples: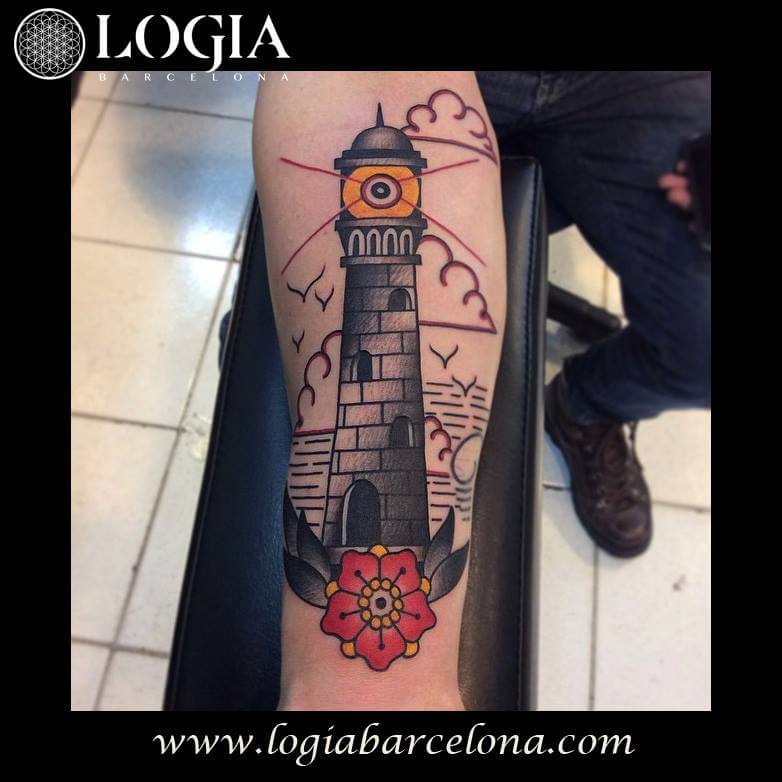 It is logical that headlight tattoos conquer those who believe in these values. You are probably thinking that it only interests those who are engaged in the maritime sector but the truth is that there are many more people who have nothing to do with navigation and, even so, they decide to have these tattoos.
All the values ​​that a lighthouse represents can be transferred to our life, to the day-to-day scenes. And in the end, the light that projects is a way of reminding us to stay awake, to keep moving forward despite adversity and not lose sight of our goals.
Tattoos of headlights in white and black
Although better to discover it with images. The tattoo artist Pedro Monteiro deserves a mention to part in our proposal of tattoos of lighthouses. The chosen place, the back, is a part of the body that invites you to let go and create a design as spectacular as that of photography.
Only with the use of black ink is it possible to define the construction of the lighthouse but also all its surroundings. In addition, the small details of the sky and the sea are portrayed to perfection. One has the feeling that he is witnessing this live show. If it has convinced you, it is because you also believe that there are headlights that never go out.
An example of black and white headlight tattoos, but totally different, are these tatttoos in sketch or sketch style:
No doubt they are superoriginal and with a very innovative design and different from the tattoos seen so far.
If you are thinking about getting a tattoo or have any kind of consultation about our tattoo shop services of tattoos, piercings, henna tattoos, micropigmentation, microcapillary, tattoo removal or our tattoo courses, do not hesitate to contact us by clicking here, via email info@logiabarcelona.com or by phone: +34 932 506 168