Singer, actress, model, businesswoman and designer Rihanna has confessed on numerous occasions that she is addicted to tattoos and that she loves to spend time in different studios. In different interviews she's said that sometimes she is very impulsive when choosing her tattoo designs and that is why she's had to cover some of them, to make room for others with more significance.
Meanings of Rihanna's Tattoos
Rihanna has more than 20 tattoos all over her body. In today's post we'll explain the meanings behind some of them:
Egyptian Falcon (foot): Rihanna told that she dreamed of this design since she was a teenager and she got it done in June 2012. It symbolizes a light that shines in the dark. The falcon never close its eyes. This tattoo is actually a cover up of a musical note that she got in 2006.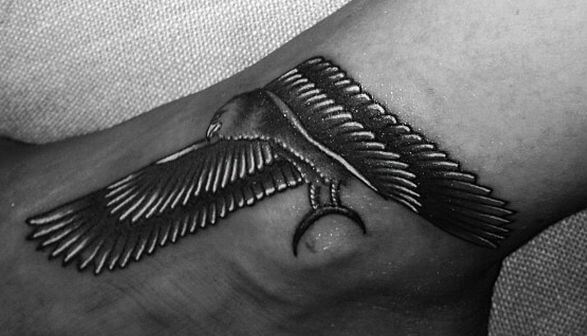 Rihanna's Hand Tattoos
Tribal Dragon Claw (right hand): This is one of her most recognizable designs. It means strength and love. Since she got it she's enlarged it with a Mandala and Mehndi design.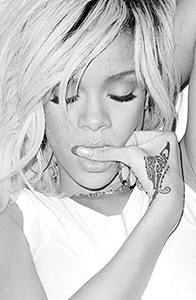 Italic Love (middle finger): This tattoo is only visible in certain times (for example when she grabs the microphone), since it is quite small and discreet, inside of the middle finger.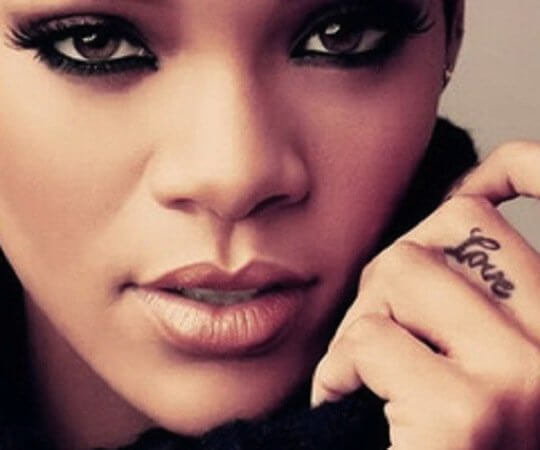 Shhh (index finger): this is a quite popular tattoo in the finger, because it's visible when you make the sign to make someone silent.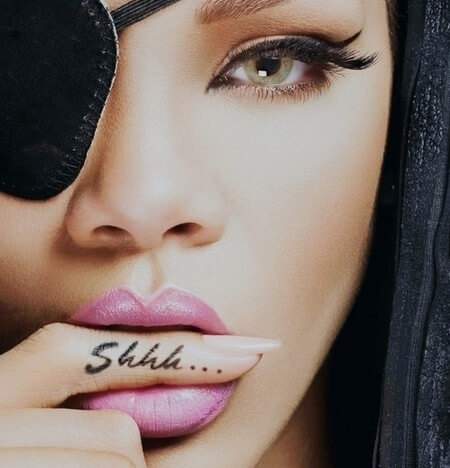 Maori and Mandala design (mano): this is the enlarging of the original dragon claw. It is a beautiful and decorative design in the hand, fingers and wrist. She has stated several times that this was her most painful tattoo.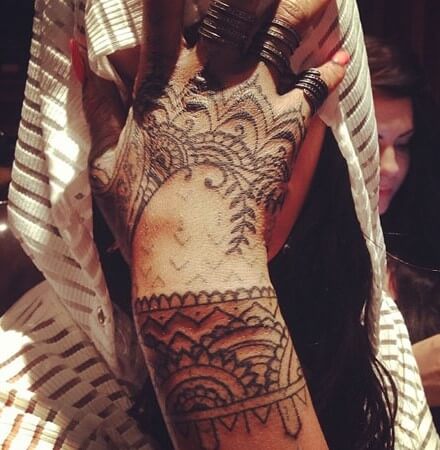 Rihanna's body tattoos
Al Hurria fi Al Masih (left ribcage ): the translation is "Freedom of God".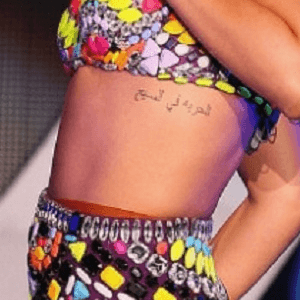 Pistol (right ribcage): this was a birthday gift tattoo for a friend and she ended up getting it tattooed herself.uiso regalarle este tatuaje a su amigo por su cumpleaños y acabó también tatuándoselo.
Sanscrit (hip): it has a slight translation mistake. Originally it was supposed to mean "forgiveness, honesty, repression and control, pleasure, pain, birth and death" but it actually reads "long suffering, veracity, moderation, inner peacefulness, fear and lack of fear".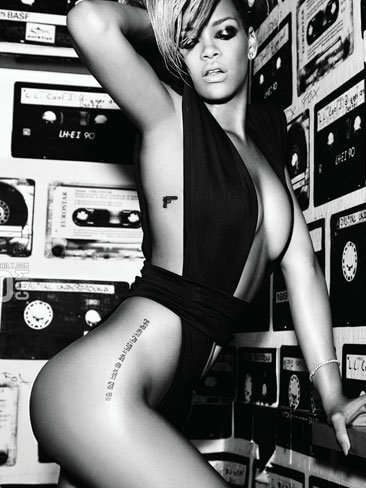 Rebelle Fleur (neck): it means "rebel flower".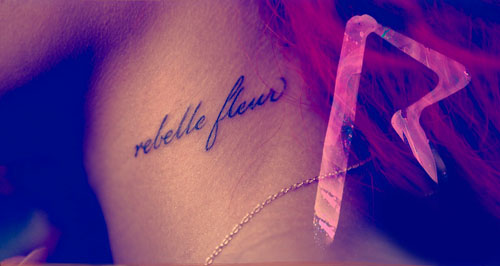 Roman numbers date (left shoulder): it's her best friend's birthday, and her friend wears Rihanna's date.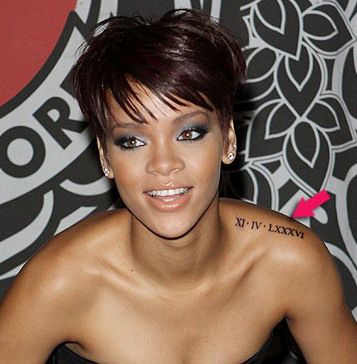 Rihanna's Underboob Tattoo
Isis Goddess (underboob): she got it as a tribute to her grandmother, meaning ideal wife and mother. She remembers her as a role model for future generations.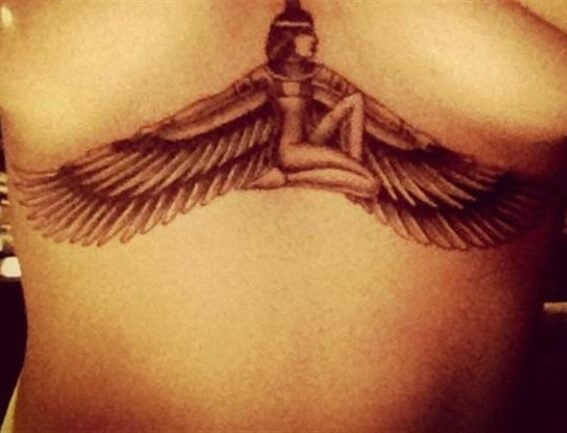 Cover photo credit: thisistattoo.com
If you are thinking of getting a tattoo or have any question about our services of tattoos, piercings, henna tattoos, micropigmentation, microcapillary, tattoo removal or our tattoo courses, do not hesitate to contact us via email or phone. And if you want a tattoo similar to Rihanna's visit us at our tattoo studio in Barcelona and we'll be happy to help!