Poppy tattoos are one of the most popular flower tattoos. In our tattoo shop in Barcelona we are very fond of this style of tattoo, decorative and elegant. That's why in today's post we analyze the meaning of poppy tattoos and show you some of the most special works we have done.
Meaning of the Poppy Tattoo
The Poppy flower has different meanings and connotations in different parts of the world. It is usually a striking and delicate flower due to its bright red color and translucent petals.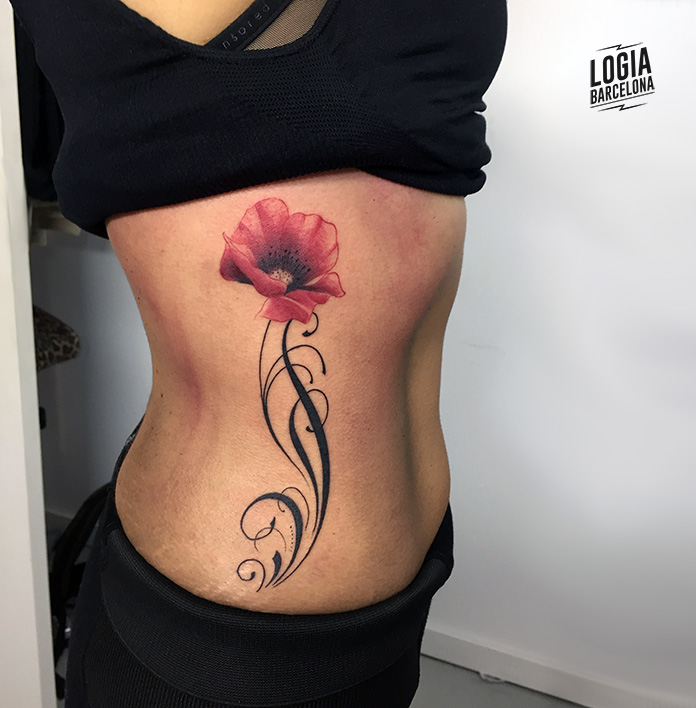 Depending on the place from which you look, the feeling that the poppy brings is totally different. At one end of the globe, we are told that each petal emulates the tears of women when they cry for love, whereas at the other end they say that it reflects wealth and rest. However, its most common meaning is love and passion. Poppy is one of the most sensual flowers on the planet.
Its petals give a sense of security and happiness and its long stem adapts to different air currents with its movements, that's why when we see a field full of poppies we feel freedom and calmness. Seeing how they dance to the beat of the wind, we will relax, even from afar, we may be able to receive their subtle and delicate perfume. A perfect design to get as a walk in tattoo.
No wonder, that in the tattoo we present today the flower stem is a romantic phrase. Its typography also fits perfectly with the essence of the poppy, the lettering style is simple, the stem of the flower is a romantic, beautiful and overcoming phrase, written in the lettering style, highlighting and always accompanied by the sensuality that characterizes it.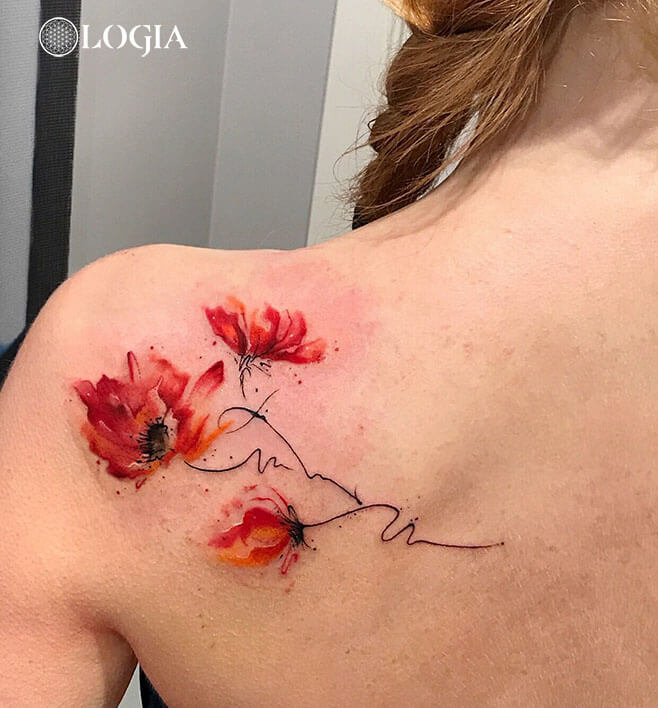 In this design, fine lines are used, transmitting the fragile essence of the poppy. A work full of precision, alternating very well the reddish tones to be able to differentiate perfectly the petals and the tears between them.
At Logia Barcelona Tattoo Studio we do not only work figures and lines, but also tattoos full of emotion. If you are interested in getting a tattoo or piercing do not hesitate to contact us. We wait for you in our studios in Barcelona or l'Hospitalet.