Paper tattoo paper and its meaning
Paper airplanes carry children, with good memories, at moments when the only thing that worried us were the games. With paper airplanes, we sent secret messages to our class or simply enjoyed us during our dead hours.
Another meaning of paper airplanes is the love of travel. There are many people who love to discover world, new customs and cultures. Traveling is learning, it is leaving the routine, creating new memories and meeting new people, different but exciting. Traveling helps us to be more tolerant, to love the difference, to understand, that in the variety, there is the taste. If you feel identified with these facts, tattooing a paper airplane is a very good option.
This design, at the beginning, simple, is perfect for making a discreet and personal tattoo.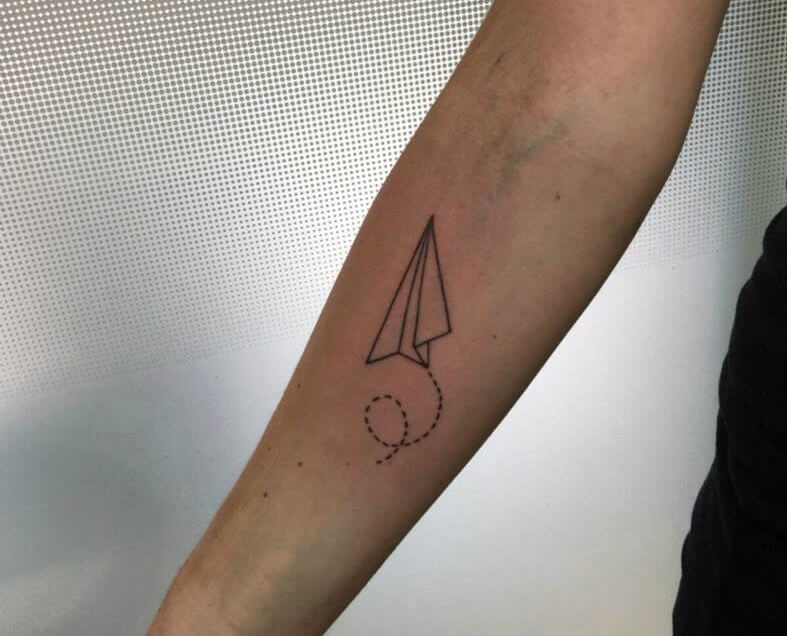 If you want a tattoo starring in a paper airplane, you like a showy design, a very good option is to fill it with color. In this case, the colored paper tattoo we present today, made by tattoo artist Pepo Errando, the protagonists are the orange and blue colors, which make this tattoo a striking work.
Boat paper tattoo, more origami
Paper airplanes have their origins in Japanese technique, origami. This technique consists in folding paper in some way to create precious shapes, from swans to roses, everything is possible in this practical millenarian. A very beautiful tattoo and with a very similar meaning to the tattoos of paper airplanes are the tattoos of paper boats. Drawing brings you immediately to childhood and a sense of immense freedom.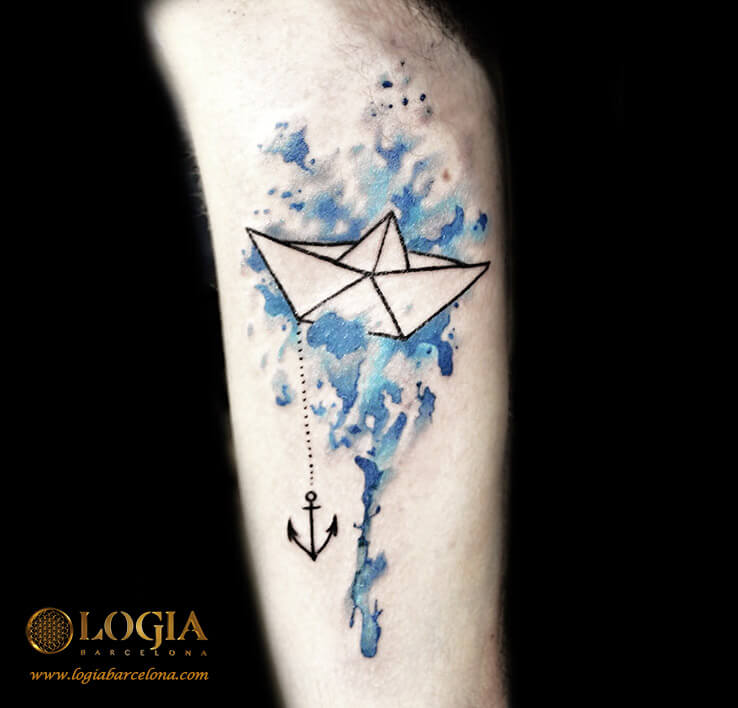 In this tattoo, the tattoo artist Billy de la Torre has mixed the simple line of the origami tattoo with the fluidity of the watercolor style, obtaining a very dynamic and lively tattoo.
If you want a new tattoo, piercing, get closer to our studio, we will be happy to help you. If you are interested in the treatments we offer, such as mircopigmentation, removal of tattoos or dinner tattoos, do not hesitate to contact with Logia Barcelona we will be happy to help you at our tattoo studio Barcelona, we will make your dreams come true.