Indian Tattoos
Indian tattoos are a way to represent the origin from which our ancestors come. The aboriginal culture was very believing in regard to their gods and spirits of kind energy. For this reason, it is common to see tattoos of Indian gods tattooed on the skin.
Indian tattoos can be very varied as they can include feathers, amulets and other symbols related to strength and security. They are usually done in both the man's body and the woman's and almost always represent something important for that person. In fact, they are associated with values ​​such as protection and respect.
Within the Indian tattoos, we find two great types: the Indian tattoos Apaches and American Indian tattoos. Here we explain the characteristics of each of them: Indian race
TATTOOS OF INDIANS APACHES
The Apache tribes are some of the most renowned among all the Native American peoples. The Apaches were nomads who lived by hunting wild animals such as the buffalo, from which they extracted the skin to make their clothing.
The Apache Indians are believed to have been among the first to learn to ride and ride horses. Hence the idea of ​​converting the Indian into a symbol of the skilled, strong, dominant and powerful man.
The most common tattoo of Apache Indians is that of the indigenous face, with its classic and distinctive feather crown, how it looks like:
Although there is also room for Indian warrior women: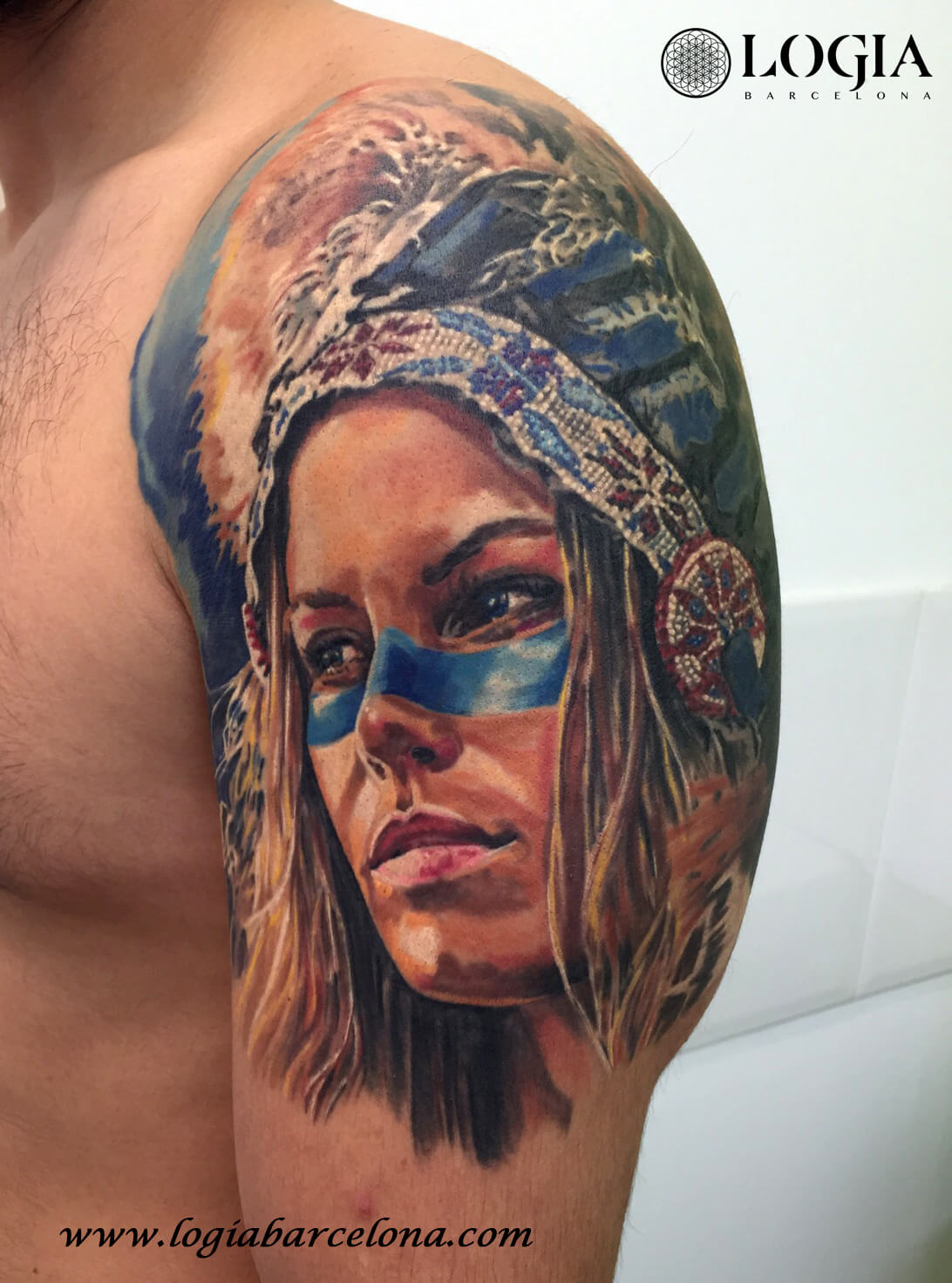 This Indian Apache tattoo was already beautiful, but finally the spirit of the Indian and the wolf howling at the full Moon was added, the spectacular result: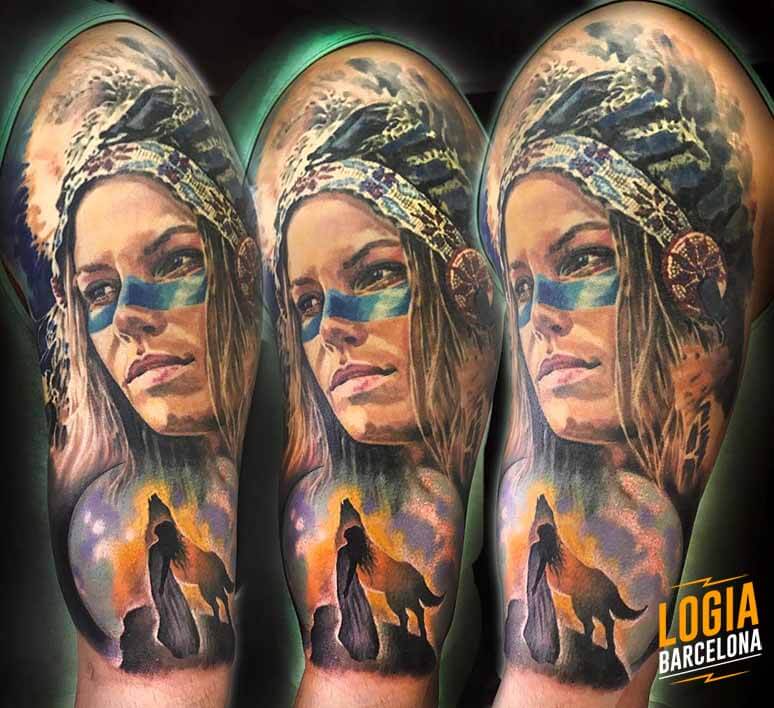 Tattoos of indian americans
The Indians of North America used tattoos for many, many years, as a method to document their travel and all the learning it carried. A cultural part of them was to make tattoos about their adventures, chiefs, main lineages and even their religion. Next we present another example of Indian tattoos on the arm: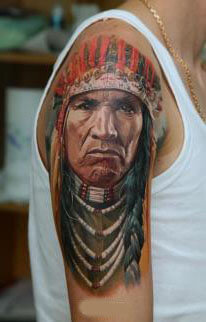 Of course there are also many Indian tattoos, precious: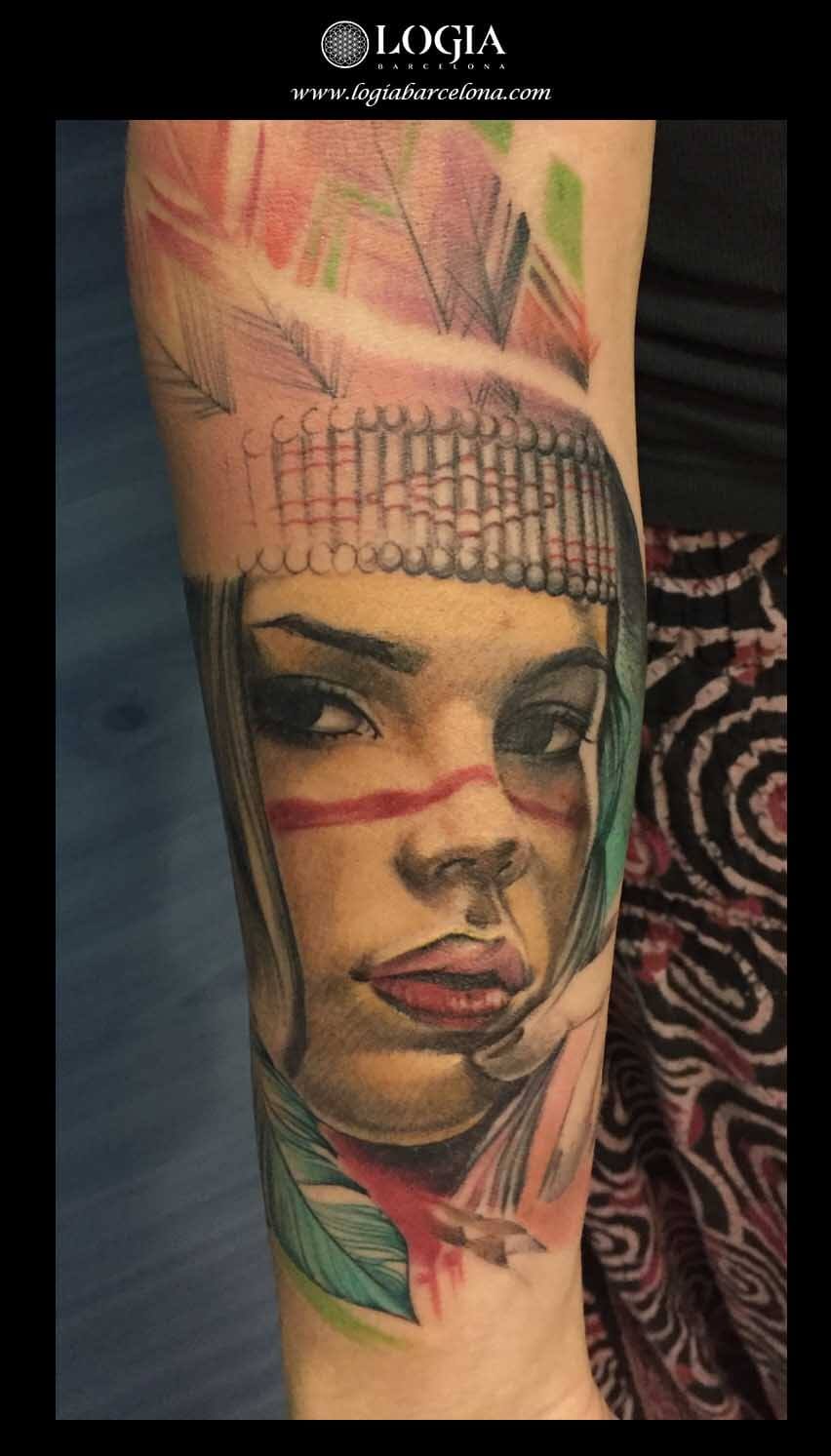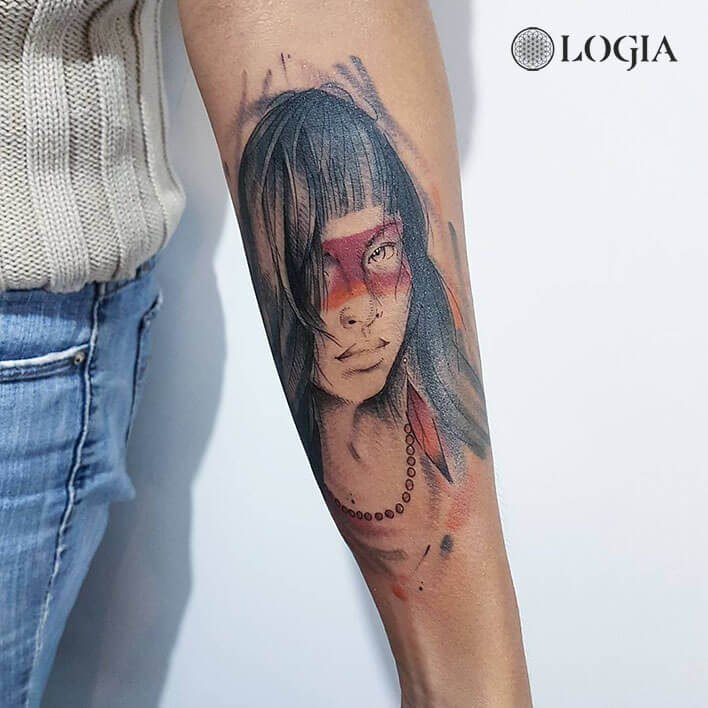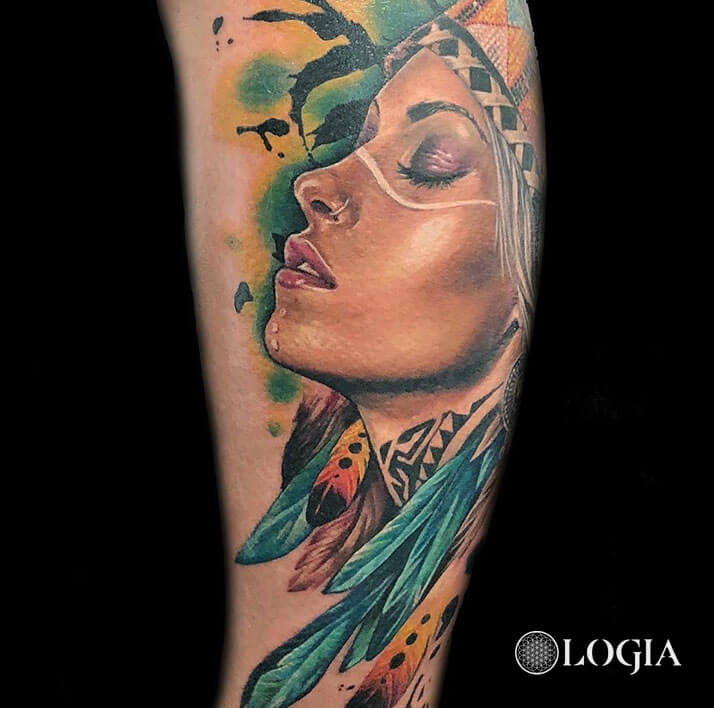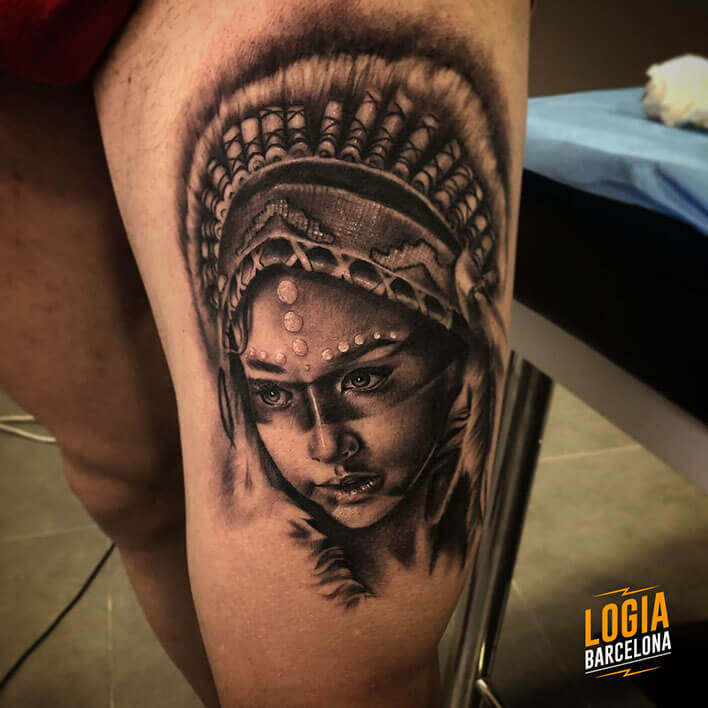 Besides the realistic tattoo of Indians, as we have seen so far, we can also find Indian tattoos in other styles more old school: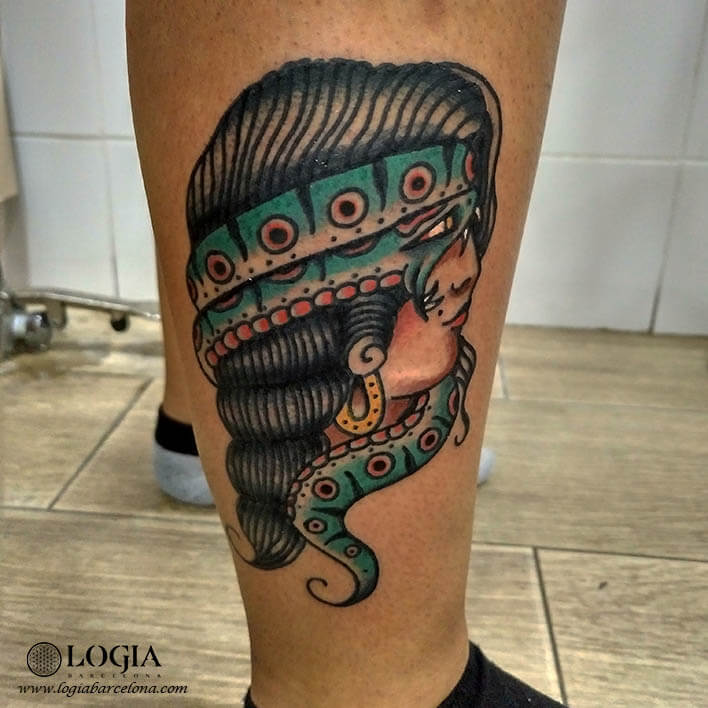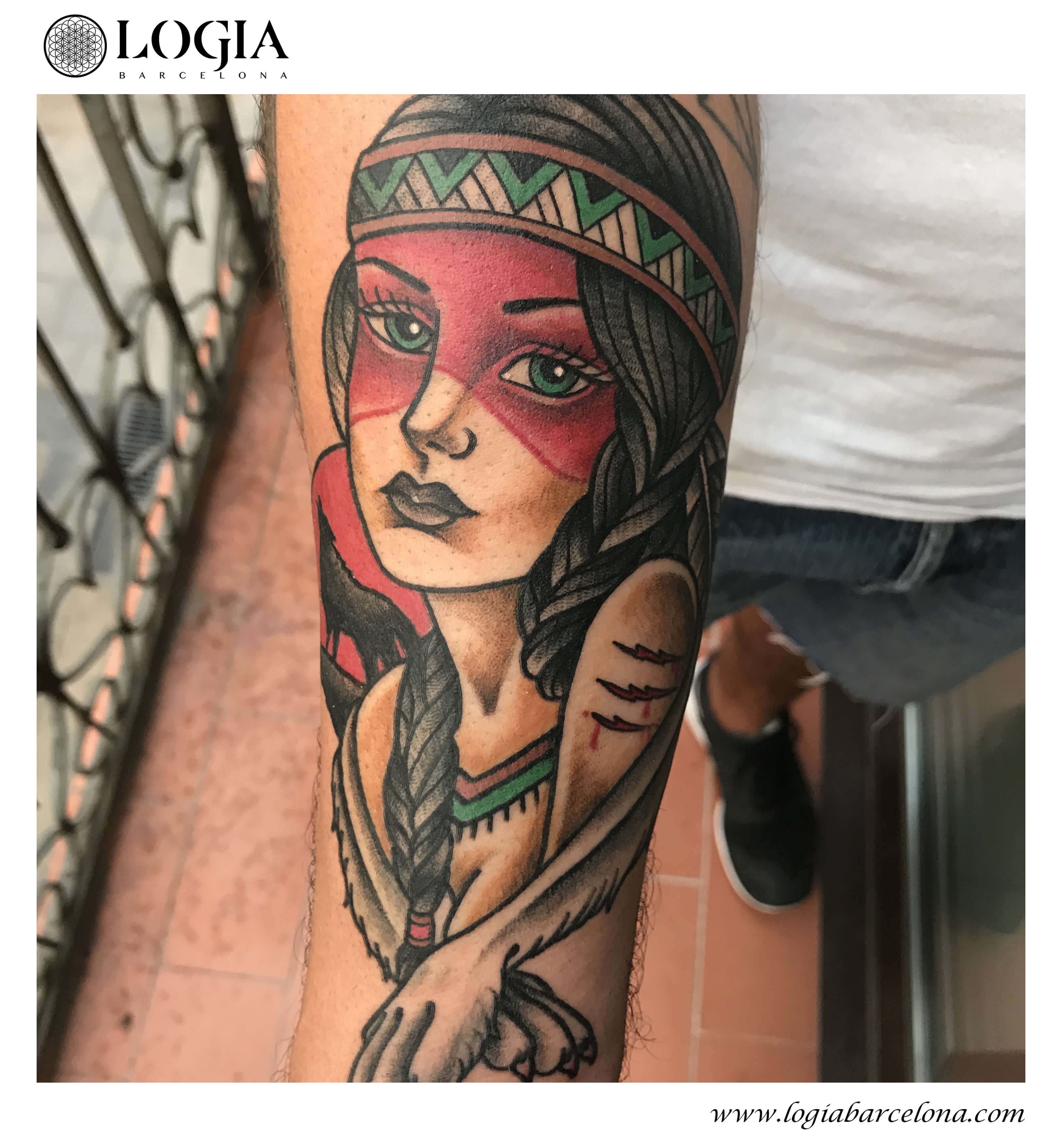 You can take a look at the work of our Logia tattooists to discover other types of Indian tattoos. Do they inspire you? If you want something like this on your body, come to our tattoo shop in Barcelona and our team will be happy to help.
If you are thinking about getting a tattoo or have any question about our services of tattoos, piercings, henna tattoos, micropigmentation, microcapillary, tattoo removal or our tattoo courses, do not hesitate to contact us by clicking here, via email info @ logiabarcelona.com or by phone: +34 932 506 168